---
It's charted
"We try to be authentic to the characters we create and the places that they visit, to show them the respect that they deserve. And Piggyback has done the same with this guide. This is the no-holds-barred guide, with every piece of info you could ever want on Uncharted 3. Story breakdowns, maps, puzzle solutions, multiplayer strategies, and more – it's all in here. Outside of the Naughty Dog office, there is no more-definitive tome of Uncharted 3 lore."

Justin Richmond, Game Director for Uncharted 3
Features
Annotated hi-res top-down maps combined with easy-to-follow tactical advice cover both the most challenging and the most interesting combat encounters.
Offers advanced playing strategies and techniques for the unlockable Crushing difficulty setting, plus a story recap and analysis of key mysteries from the entire UNCHARTED series.
The redefined walkthrough chapter provides a visual, step-by-step guide through the entire adventure supported by behind-the-scenes commentaries from the Naughty Dog team. And yes, all collectible Treasures are included!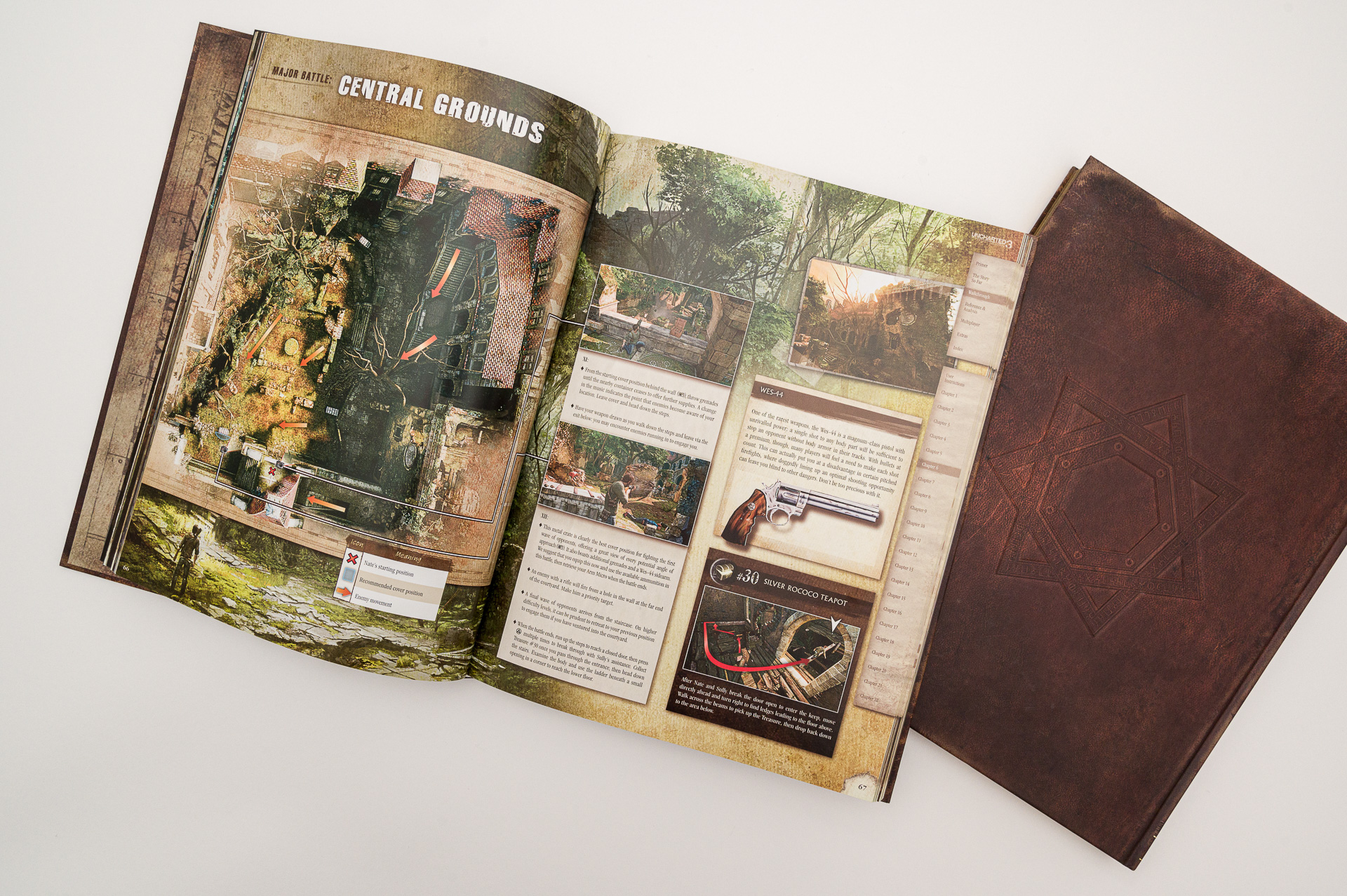 Features
A massive 64-page multiplayer chapter, packed with detailed tables, diagrams, maps and countless useful tips, covers all features in both the Competitive and Co-op play modes.
Includes all Treasures, Trophies and moves. Expert level graphs, stats and tips will help you master all weapons and overcome all opponents.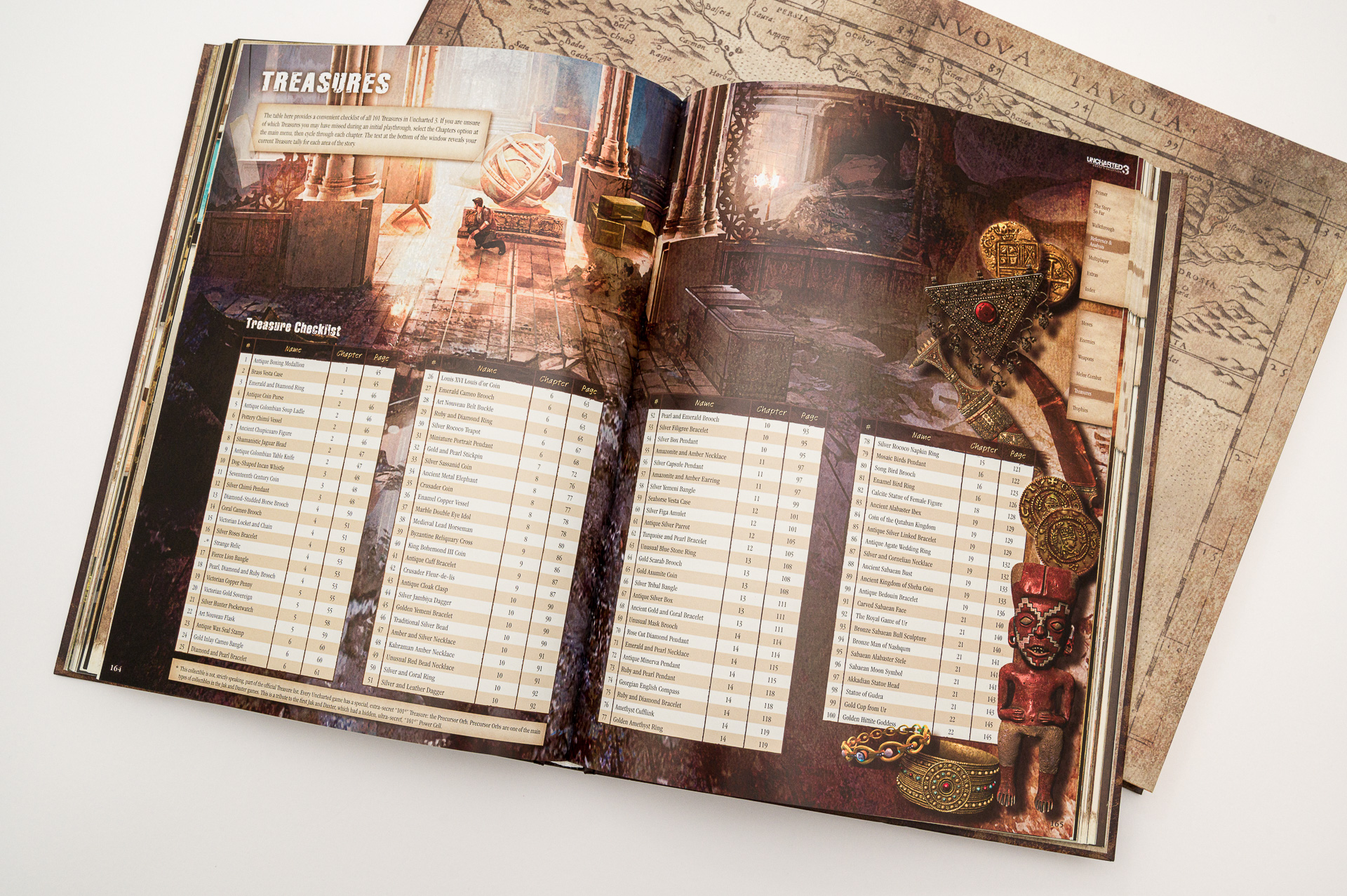 Editions
| | |
| --- | --- |
| Image | |
| Edition | Collector's Edition |
| Release date | 02/11/2011 |
| Pages | 276 |
| Binding | Hardcover |
| Bonus | Includes a free audio CD with ten tracks from the official UNCHARTED 3 music score. The exclusive 16-page "Cast Gallery" section features stunning character art supported by illuminating notes from the Naughty Dog team. |
| ISBN | 978-1-908172-00-6 |
| EAN | 9781908172006 |
| Price | £19.99 / EUR 24.99 |
| Availability | Sold out |
Preview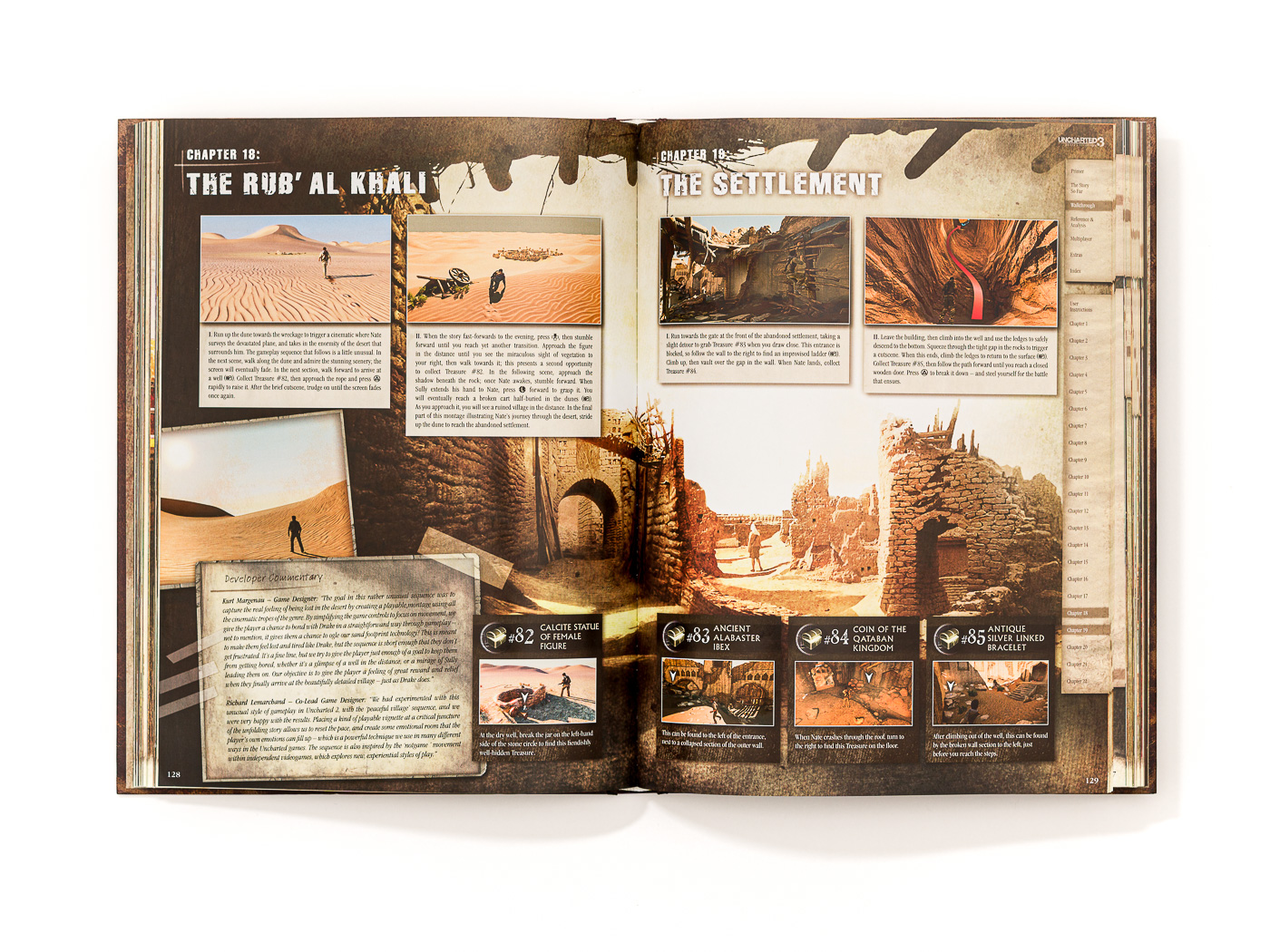 The entire sample page pack
All the sample pages from the Uncharted 3: Drake's Deception™ Complete Official Guide available in one easy download.
Reviews
"Unbelievable quality"

"Piggyback's official guide to Uncharted 3 is, hands down, the best guide I've ever seen. The content is thorough and laid out well, the pages are bustling with detail (whether it be in the words themselves, or the artwork on every page), and the book itself is fantastic – the pages are not flimsy by any means, and the cover looks amazing! I may seem blown away by the book, but that's because I am! Well done, Piggyback!"

Amazon Customer Review 11/11/2011
"Greatness from Piggyback"

"I might as well be honest with you up front. The Uncharted 3 Complete Official Guide Collector's Edition is completely worth your money and should be bought right now. […] When using the guide, I felt like I was reading out of some ancient journal from history. You're probably saying to yourselves that I'm being ridiculous, but after you buy this guide and start using it, you will start to feel the same way I do. Secondly, this guide is wonderfully well written, which is no surprise as this guide came from Piggyback. […] In conclusion, the Uncharted 3 Complete Official Guide is simply amazing and as I said before should be bought right now. Don't question me, just do it!"

Amazon Customer Review 29/01/2012
"Best guide ever!"

"I've only bought a handful of game guides over the years, but this one is by far the best. It is extremely detailed, complete with arrows on actual in-game screenshots showing you where to go. Each treasure is numbered and has a corresponding pop-out picture to make it easy to find. I beat the game on Hard by myself, but used the guide to get me through Crushing. I could not have completed some levels nearly as easily as I did if I didn't have this book. It tells you how a battle will happen, with gun and cover strategy suggestions, but in the back it also gives you instructions on how to complete some sections entirely with stealth! The writers also did a great job of avoiding spoilers throughout the walkthrough. The back of the book also contains very helpful information on the multiplayer, including tips on the maps that were available when the book was released. The detail, not only in game information, but with the book's artwork makes this book great to look at, even if you aren't currently playing the game. Overall, a great book. Very detailed and thorough and extremely easy to follow and understand."

Amazon Customer Review 07/12/2011