---
THE LEGEND UNCOVERED
Six months in the making, and designed with extensive support from Crystal Dynamics, Tomb Raider: Legend – The Complete Guide is an essential companion for those who want to get the most out of Lara's latest adventure. Dizzyingly comprehensive, packed with beautiful exclusive artwork, and filled with insider information from the development team, this is so much more than a standard guidebook. It outlines the precise location of each of the 116 "Rewards" (secret collectables hidden throughout Tomb Raider: Legend's expansive locales), reveals every single unlockable feature, and offers the most extensive Behind the Scenes section ever written for a videogame guide.

Tomb Raider: Legend – The Complete Guide has an authoritative, all-encompassing walkthrough that offers step-by-step guidance, plus advanced strategies and tried-and-tested techniques refined over months of dedicated play. It also features detailed annotated maps that provide an at-a-glance overview of every location Lara visits. Concept art, sketches, renders and illustrative hi-res screenshots make every page an individual and visually rich experience. The guide is a massive 198 pages long, with 25% of these dedicated to the all-important "Extras" and "Secrets" sections alone.
Features
Detailed explanation of all moves and actions
Comprehensive "Secrets" chapter: discover the location of every single Gold, Silver and Bronze Reward, and learn about the bonus features they unlock
Features an exclusive behind-the-scenes interview with the Tomb Raider Legend development team, plus background information on the Tomb Raider story to date
Unique two-speed walkthrough
Innovative back cover fold-out ensures you have a constant overview of the legend
Preview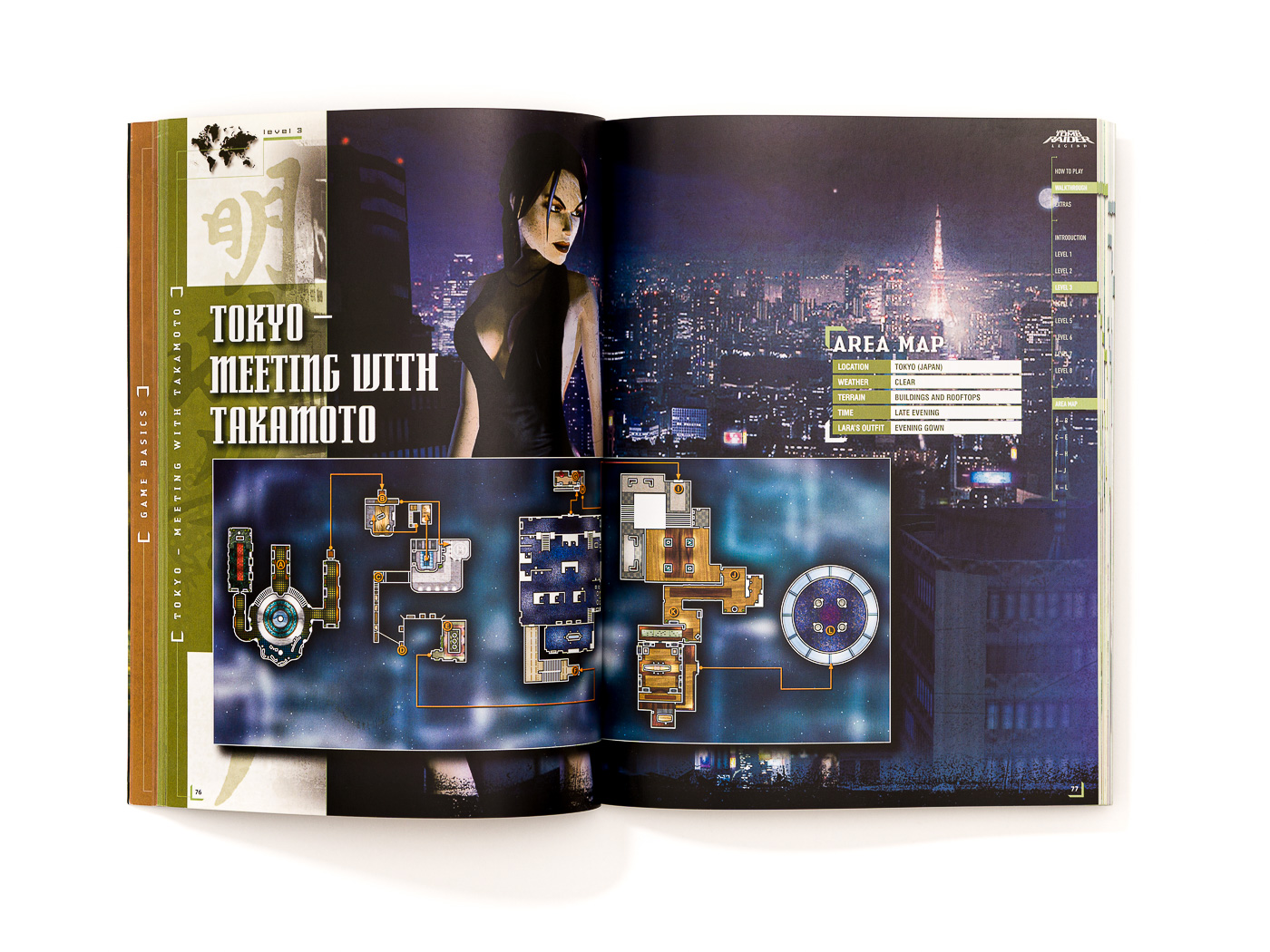 The entire sample page pack
All 14 sample pages from the 198-page Tomb Raider: Legend – The Complete Guide available in one easy download, featuring pages from the How to Play, Walkthrough and Extras chapters.
Editions
| | |
| --- | --- |
| Image | |
| Edition | Standard Edition |
| Release date | 4/7/2006 |
| Pages | 198 |
| Binding | Softcover |
| ISBN | 0-7615-5324-X |
| EAN | 978-0-7615-5324-3 |
| Price | US $16.99 / CAN $22.95 |
| Availability | Sold out |
Reviews
"Easy to use and simply wonderful to look at"

"A simply beautiful book – even if you don't want help! I spent the best part of 2 hours reading this book from cover to cover. Even before I started to play the game I took time to read everything there was to know. The book offers something for everybody – even if you are determined to complete the game on your own there is still plenty to learn from the interviews and concept art. The book provides an in-depth look at how the game was created and how Lara has progressed since her debut appearance in the original Tomb Raider. For those who are looking for 100% completion, look no further! The book contains an easy-to-follow walkthrough for each level, an area map for each level displaying the locations of each secret and a fully comprehensive 'Extras' section at the back of the book which shows players how to unlock all the rewards in the game. Even if you only need help on a little bit of the game, it takes just seconds to find the bit you need to help you open that crucial door. Overall, the book is informative, easy to use, easy to digest and simply wonderful to look at."

Amazon Customer Review, 08/17/2006
"A piece of Tomb Raider history"

"This guide is fab. Every level is detailed with pictures and a map of the area. I have flicked through and read some of the guide as well as used some of it when playing the game for my PC. This guide is also perfect because not only does it show you all the details of where to go in the levels and where the awards are, it also shows you all the production and creation put into making this game. I find this guide full of loads of info and interesting notes not just on how to play the game but also the game its self. I give the guide 5 stars. And at only a small price its a piece of Tomb Raider history."

Amazon Customer Review, 04/27/2006
"Fabulous!"

"This guide is perfect. It has a whole section on tips and strategy to help you play through Tomb Raider: Legend, and then comes the Walkthrough part. Now, I do wish the maps were perhaps slightly clearer, as it can be difficult to find out where you are in the game, but the very informative text is also accompanied by colour screenshots to help you find that all important switch, ledge, or item. […] All in all, a fantastic book with a wealth of information to see you safely through Tomb Raider: Legend, whether you're simply checking to see where that artifact was, or following it religiously. […]"

Amazon Customer Review, 04/10/2006