---
The Final Word
Developed by a dedicated 30-man editorial team, Piggyback's official Final Fantasy® XII companion is our biggest and most detailed book to date. With no less than 340 pages, this 100% comprehensive guide includes a massive walkthrough, all secrets, side-quests, mini-games and bonuses, not to mention a comprehensive tactics chapter with expert advice and tried-and-tested battle strategies. With its expert guidance complemented by beautiful Final Fantasy® XII artwork, and each page being the product of more man hours than we'd care to recount, Final Fantasy® XII: The Complete Guide is a true labour of love.
The all-encompassing Final Fantasy® XII: The Complete Guide is an indispensable companion to your travels through the world of Ivalice, and has been designed for use by both newcomers and Final Fantasy® experts alike.
Features
The 100% complete walkthrough reveals how to get the most out of your adventure – including all hidden side-quests.
Annotated maps disclose the exact location of all treasures, shops, crystals and much more…
Unique "Runthrough" tables offer optional, spoiler-free tips on how to complete the main quest.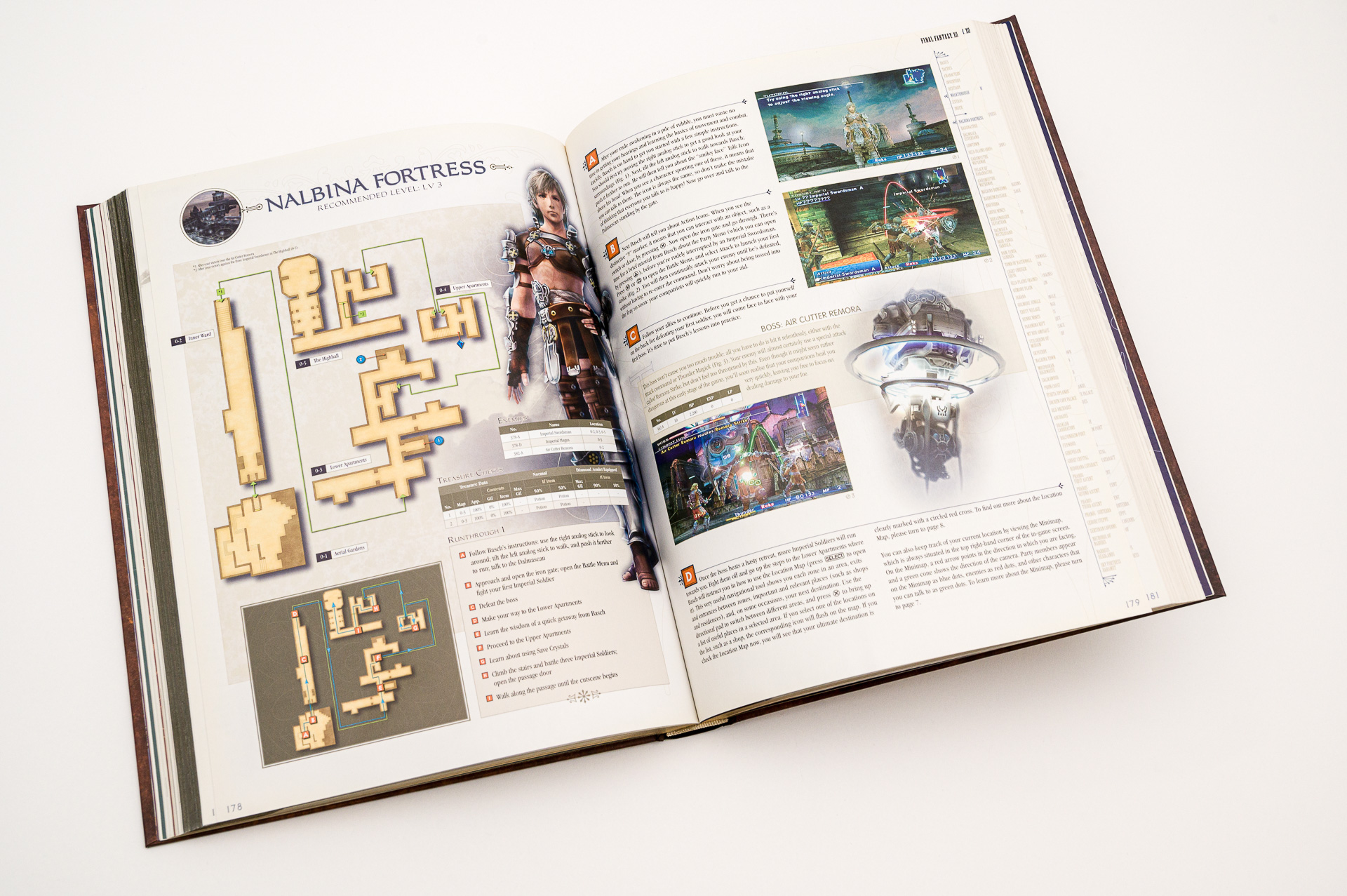 Features
The Tactics chapter is designed to help you maximise your party's potential, with expert advice on Gambits, Licences, battle strategies and many advanced tricks and techniques.
Hundreds of screenshots, maps, informative diagrams, and easy-to-use tables.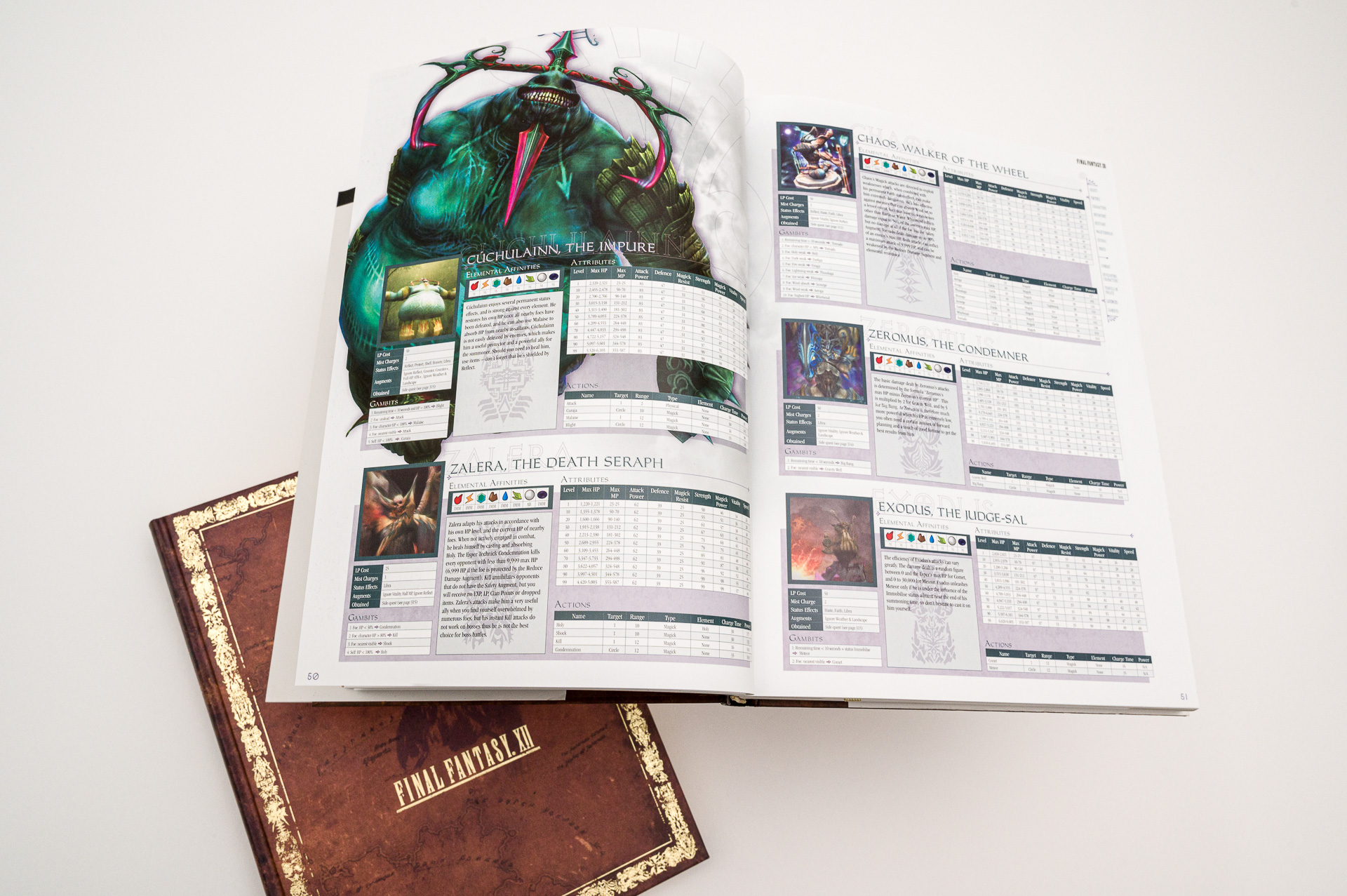 Editions
Choose your Guide Edition
| | | |
| --- | --- | --- |
| Image | | |
| Edition | Standard Edition | Collector's Edition |
| Release date | 23/02/2007 | 23/02/2007 |
| Pages | 340 | 340 |
| Binding | Softcover | Hardcover |
| Bonus | | This limited edition cover reproduces the splendour of an antique tome, delicately embellished with foil symbols and true to the world of Final Fantasy XII. |
| ISBN | 1-903511-48-0 | 1-903511-49-7 |
| EAN | 978-1-903511-48-0 | 978-1-903511-49-7 |
| Price | £14.99 / EUR 19.99 | £17.99 / EUR 24.99 |
| Availability | Sold out | Sold out |
Online Guide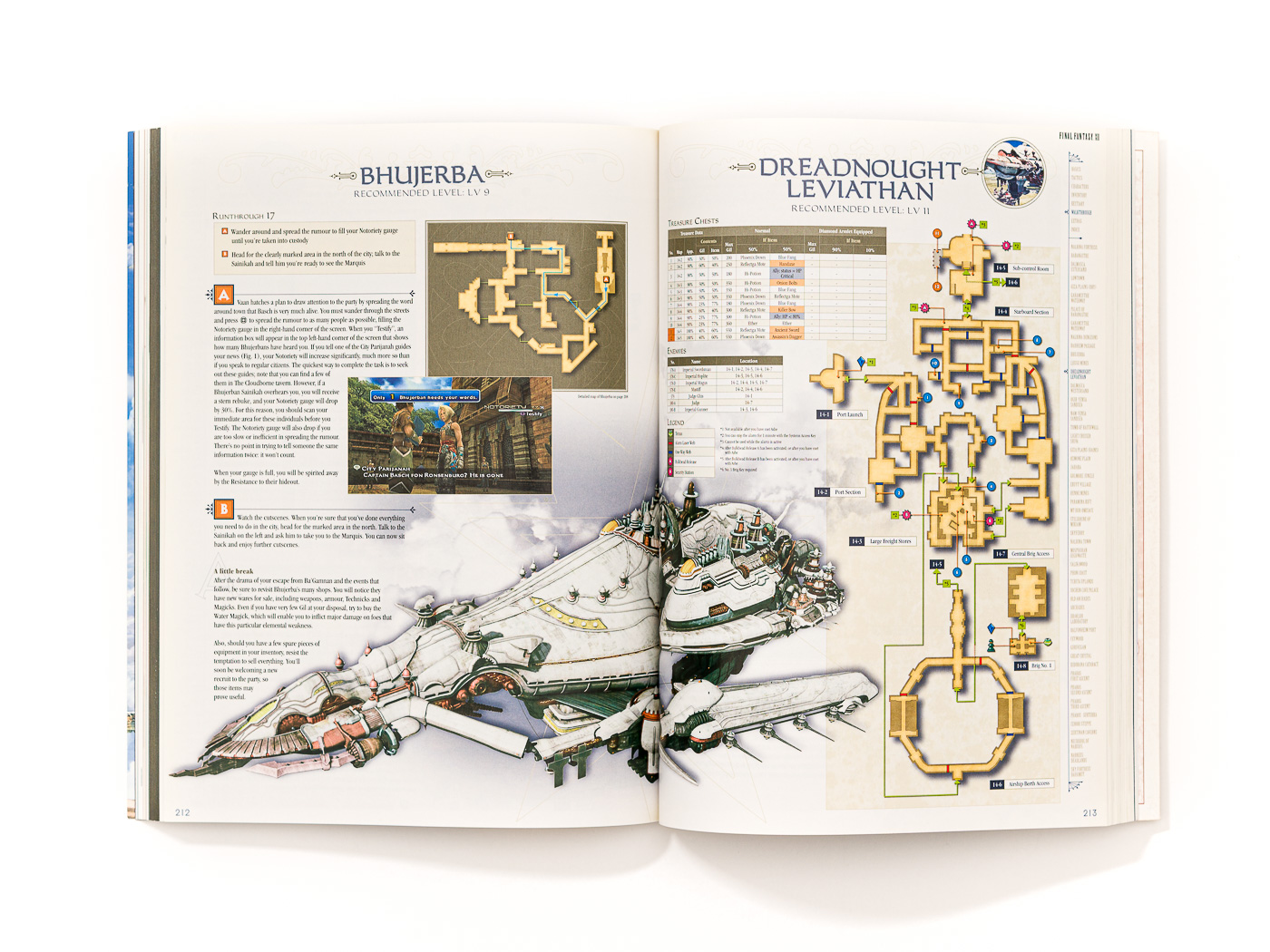 Online Guide
This online guide offers you all 340 pages to the Complete Official Final Fantasy XII guide for free. These pages are fully searchable on your device: Tablet, phone, and PC. Enjoy!
Reviews
"Another fantastic Piggyback guide"

"Piggyback have always produced the best guides when it comes to Final Fantasy games and this is no exception. The guides have a good layout and are beautifully illustrated. The information provided in the guide is almost always accurate and written in a clear, easy to understand manner. None of the aforementioned attributes can be said about the guides produced by BradyGames! This really is the war and peace of strategy guides as it really is THAT big. It doesn't really matter if you buy the paperback version or this guide as either one will tell you everything you'll ever need to know about Final Fantasy XII but I have to say… removing the front cover on this version to reveal the lovely antique style hard cover is a real treat for the eyes. I highly recommend this guide."

Amazon Customer Review, 24/07/2007
"It's superb. The best guide I've seen"

"I'll keep this short – it's superb. The best guide I've seen. The hardback edition comes with a protective sleep, and a handy placemarker. The guide is EXTREMELY detailed, and packed with all the information you could possibly want. The walkthrough has extensive maps, showing you exactly where you have to go in what order by use of arrowed-lines. There is also a quick guide for those who only want a quick reference or prompting, as well as a detailed step by step section. These are both split into paragraphs which are headed by a letter, referring to a place on the map for ease of use. Definitely worth investing in, even if just for a collectors item. It's stunningly beautiful, with artwork galore integrated into the pages."

Amazon Customer Review, 25/02/2007
"Wonderful presentation, excellent guide!"

"This limited edition guide book is even bigger than it sounds, with 340 pages and a hard cover it's massive and pretty hefty. The book is as shown with a brown leather-look hardcover and gold embelished symbols, and comes with a protective white slip-cover and a placeholder. As for the contents I've used the Piggyback guides for previous FF games and I've always been impressed with the layouts and vast diagrams, but this FFXII guide (created by a 30 man team) is crammed with so much info and so many tables I just know I wont be needing anything else. Plus, Piggyback have made it even more user friendly and easier to find what your looking for. So if you need to complete every nook and cranny of Final Fantasy XII then I suggest you buy this guide. It's a great collector's item and an invaluble companion for the Final Fantasy nutters out there – and contains fantastic artwork."

Amazon Customer Review, 22/02/2007