---
Revengeance: A dish best served with cold, hard facts!
"Every replay of Metal Gear Rising: Revengeance will reveal a new level of gameplay and a heightened – at times, seemingly insurmountable – level of difficulty. This is an adventure that all who begin it may complete, in a rudimentary sense, but few can hope to master. Beating its most demanding challenges will require supreme composure and exemplary skill… or, perhaps more realistically, a trusted companion and advisor with whom to walk the path to true completion. If you are reading this, you need not look far. This guide will be a friend beyond compare, especially during Raiden's more demanding trials as he faces unique enemies in this awe-inspiring Metal Gear world. It is not merely a knowledgeable and relaxed tutor, but also an endless source of fascinating and otherwise secret information. But then, would you expect any less from a Piggyback guide?"

Yuji Korekado, Metal Gear Rising Revengeance Producer
Features
100% COMPLETE: All ranked battles, optional challenges and maximum-score walkthroughs for all VR Missions – this is your ticket to 100% completion.
ALL SECRETS: All unlockables, all bonuses, all collectible items, all hidden areas, all titles, all optional Codec conversations, all Achievements and all Trophies… it's all here!
ALL-ENCOMPASSING REFERENCE CHAPTER: In-depth analysis for all game systems including moves, combos, unlockables, upgrades, weapons, items, "secret" stats and insider information… and much more.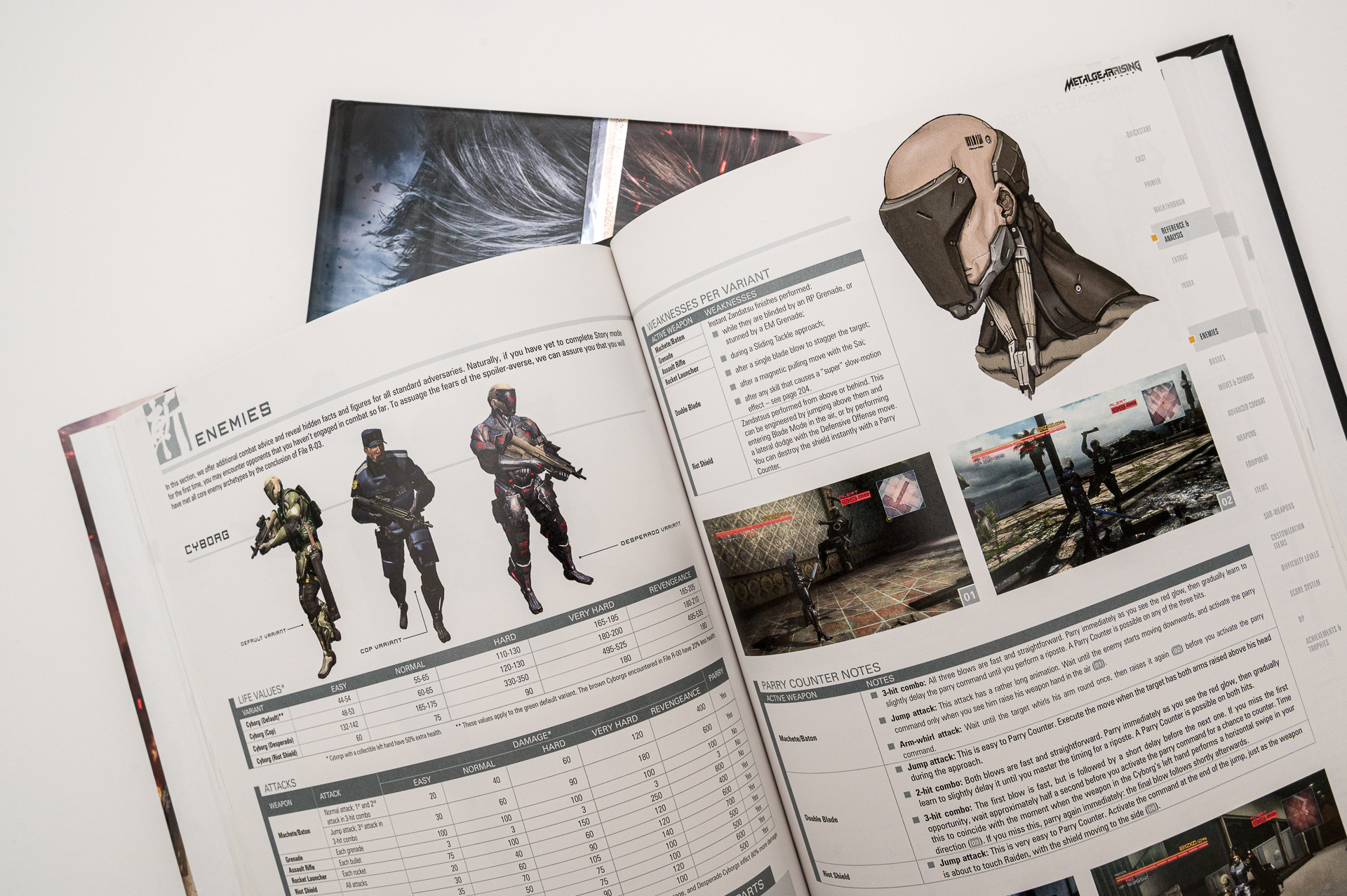 Features
HIGHLY EFFECTIVE CRASH COURSE: Clear and concise explanations introduce the essential gameplay concepts. Play with confidence from the moment the action begins!
PERFECT GUIDE TO ULTIMATE RATINGS: Features advanced guides for every major combat encounter, with multiple approaches to score "S-Rank" finishes in all battles, on all difficulty levels – including the special Revengeance mode.
VERSATILE WALKTHROUGH FOR COMPLETIONISTS & BEGINNERS ALIKE: Covers every last step of the game. Includes detailed maps and annotated screenshots for at-a-glance solutions and effortless hunting of collectibles.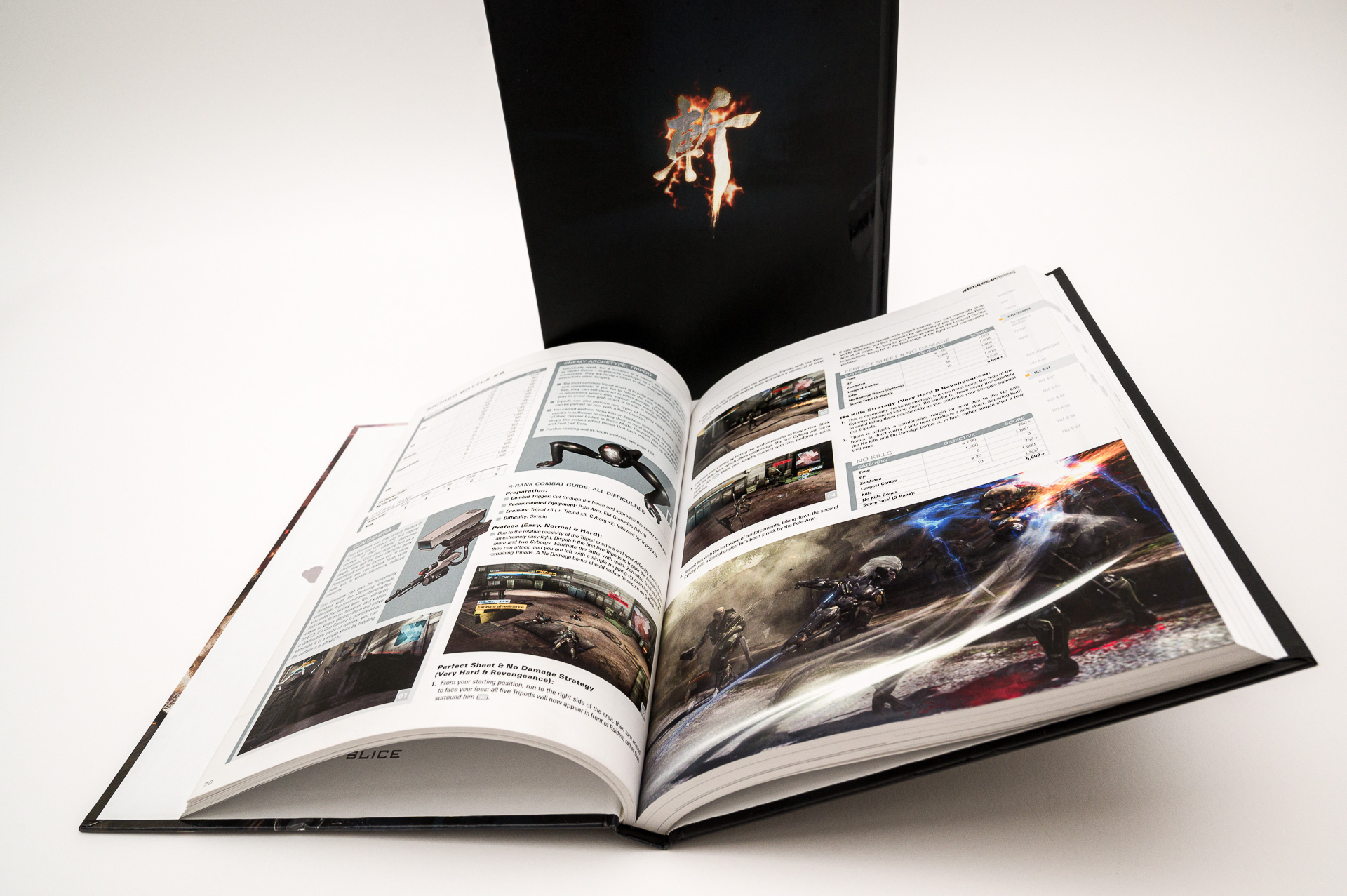 Editions
Choose your Guide Edition
| | | |
| --- | --- | --- |
| Image | | |
| Edition | Standard Edition | Collector's Edition |
| Release date | 2/19/2013 | 2/19/2013 |
| Pages | 244 | 260 |
| Binding | Softcover | Hardcover |
| Bonus | | Exclusive 16-page cast gallery with commentaries from the development team. Includes an exclusive, numbered lithograph by concept artist Yoji Shinkawa. |
| ISBN | 978-0-307-89716-9 | 978-0-307-89715-2 |
| EAN | 9780307897169 | 9780307897152 |
| UPC | 050694717180_52499 | 050694717197_53499 |
| Price | US $24.99 / CAN $27.99 | US $34.99 / CAN $40.99 |
| Availability | Low stock | Sold out |
| Purchase Options | | |
Preview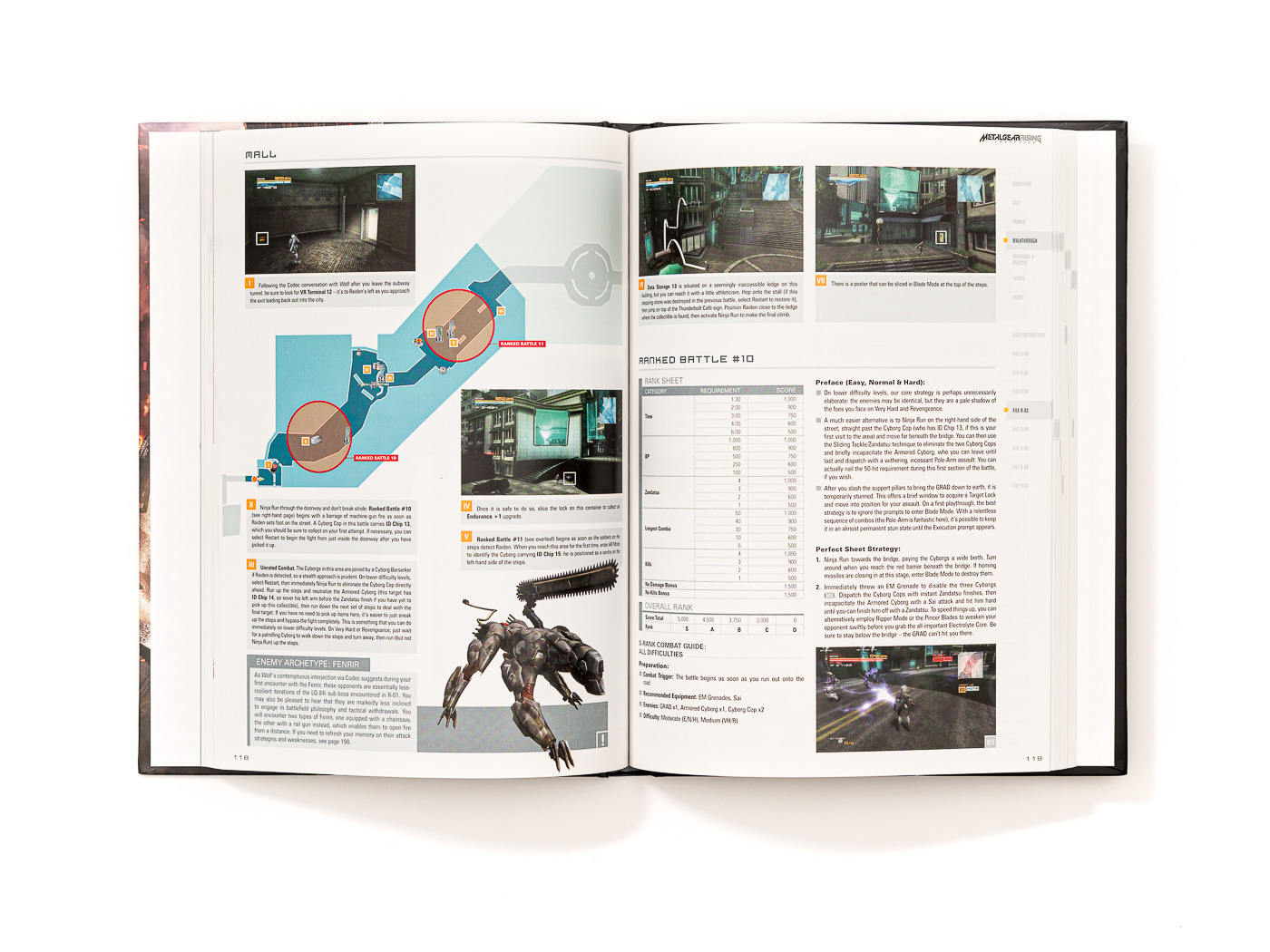 The entire sample page pack
All the sample pages from the Metal Gear Rising: Revengeance Complete Official Guide available in one easy download.
Reviews
"From top to bottom, this guide is sheer awesome"

"One word… Beautiful! This guide is hands down the MOST amazing guide I own! From top to bottom, this guide is sheer awesome, featuring Raiden on the cover. The guide is also very flashy, which is a plus because it just adds to the "Awesome" aspect. When the light hits the cover, the sword covered in lightning just lights up as well as pieces on Raiden's suit. It's everything the standard strategy guide will do for you and more! It also is packed with a numbered exclusive lithograph by the artist Yoji Shinkawa. The lithograph itself is just the icing on the cake, as an extra for the guide! Anyone that is a fan or just appreciates well-designed guide books, this is a MUST have! Piggyback, the company who designed this book, did an OUTSTANDING job with this guide, I was really impressed with it!"

Amazon Customer Review 02/26/2014
"Very helpful, with lots of extras"

"I don't use strategy guides, but I collect pretty much anything Metal Gear related so I bought this without hesitation. I read through it after beating the game on Hard, and it's got a lot of helpful information. From strategies on how to S-rank battles based on difficulty settings, to listing the locations of collectible items. It also tells you the requirements for every trophy/achievements and does the same for the titles. The pages that go in depth on the Enemies and weapons and attacks, as well as listing out the differences between each difficulty mode are great as well. There's also a cool art gallery in the back that has concept and design art for the bosses, as well as one for the different types of cyborg enemies. The lithograph is really nice as well, and the guide itself is pretty high quality."

Amazon Customer Review 02/22/2013
"Lush, informative, and well made!"

"Lush, informative, and written in a confidence that you WILL play this great game 5 times or more, this book, this exact edition, is well worth the price, up and over the non-collector's edition. For a game you'll most likely never trade in, and play in the future, it's quite essential, and beautiful. I have, and apparently always will love the Metal Gear Series, and the new game is wonderful; this edition compliments it perfectly. Also, I'm not sure if the details tell you it's a hardbound edition, but it is, and I should note it is bound well, and hasn't creased, cracked, or fallen apart as some hard-bounds do. Well made!"

Amazon Customer Review 03/03/2013