---
The Guide of the Year for the Game of the Year!*
*As rated in Ottsel Monthly magazine, Issue 11/04

As the action heats up in Haven City, let us lead you safely through the mayhem. This complete Official Guide comprehensively details all missions, secrets, characters (including Daxter's many leading ladies), enemies, items, vehicles and mini-games. Such invaluable information is spiced up by the frank and uncensored views of the World's Most Popular Ottsel, as well as the odd sarcastic remark from Pecker, the World's Most Machiavellian Monkaw. Dare you miss out?
Features
A dedicated Secrets chapter reveals:
Where to find every single Precursor Orb
What to do with those precious Skull Gems
Complete details of all bonus missions
All you need to know about the hidden Secrets menu
Flowchart for every mission for optimal game orientation
All missions detailed in a step-by-step walkthrough, complete with helpful screenshots
Comprehensive maps of every mission, featuring locations of enemies and items
Extended back cover folds out for easy access to map key. Also works as handy scoop for Monkaw droppings
This definitive Jak 3™ companion features amazing exclusive artwork, high-resolution screenshots, interviews with developer Naughty Dog in a dedicated 'Behind the Scenes' section, not to mention all you need to know about Jak and Daxter's adventures to date. Loaded with special information from the game's creators, this guide features all you'll ever need to know about Jak 3™… and more!
Preview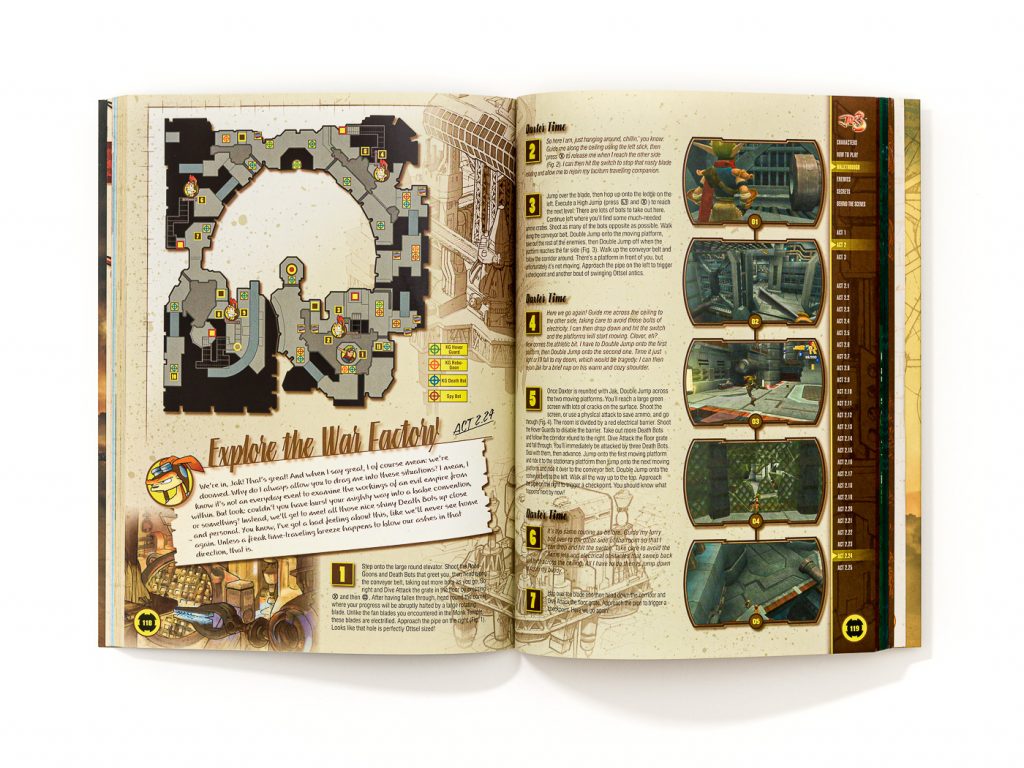 The entire sample page pack
All the sample pages from the Jak 3™ Complete Official Guide available in one easy download.
Editions
| | |
| --- | --- |
| Image | |
| Edition | Standard Edition |
| Release date | 11/9/2004 |
| Pages | 198 |
| Binding | Softcover |
| ISBN | 0-7615-4928-5 |
| EAN | 9-780761-549284-51699 |
| UPC | 050694087597 |
| Price | US $16.99 / CAN $23.95 |
| Availability | Sold out |
Reviews
"This isn't just a strategy guide, it's an ENCYCLOPEDIA!"

"So when is a strategy guide actually worth the outrageous price tag? When you actually get everything from it. Friends, this isn't just a strategy guide, it's an ENCYCLOPEDIA! Is this worth shelling out the money for? YES! Totally worth it! So strap yourself into Jak 3 and use this as your navigation tool. No stone left unturned, no secret left out. Everything you need for Jak 3 is right here!"

Amazon Customer Review, 09/11/2005
"Awesome!"

"Very detailed, very thorough walk-through. It explains weapons, enemies, characters, etc in full detail. Also it shows you exactly where each precursor orb is as well as how to complete each side mission. I recommend this to anyone who is a completionist and people who get into their games."

Amazon Customer Review, 03/09/2013
"The best guide I've ever gotten"

"Best guide ever! I love this guide, but ironically, I rarely use it as a guide (aside from the Precursor Orb locations). What makes this book great is all the extras it has. Scattered throughout the book is a whole bunch of official artwork and descriptions of levels told from the characters' points of view, and at the end of the book is a whole section of extra things. There's a Precursor alphabet so you can finally translate all that writing you see everywhere (the writing really does mean something), there's several pages of information on the making of the game, a summary of the story so far. There's also a funny section on what happened to the characters from the first two games. If you're a Jak and Daxter fan, then you will enjoy this book, even if you don't need a guide. It's the best guide I've ever gotten."

Amazon Customer Review, 07/31/2012