---
Strategy evolved from Piggyback
Developed on-site at the Bungie studios and written by the elite Piggyback team, this Official Guide includes an encyclopedia on Halo® 2's multiplayer component, a full, highly accessible walkthrough for the epic Campaign mode and everything on basic play: all in one book.
Features
Exclusive game information – direct from the developers!
Detailed annotated maps: outwit multiplayer opponents with your intimate knowledge of level architecture
Study all features of multiplayer maps, from power-up locations to "secret" areas, attack routes and more
Includes an exhaustive rundown of preset and custom game types – design your own multiplayer match and attract the best crowd
Features hundreds of digital screenshots to illustrate key points
Packed with tips, tactics and techniques from the Bungie team
Learn about every adversary, vehicle and weapon – their strengths and shortcomings and how you can exploit these
Confi dently negotiate the huge Campaign mode with our exclusive maps and step-by-step walkthrough
Designed to enhance the Halo 2 experience for newcomers and Halo: Combat Evolved veterans alike
Preview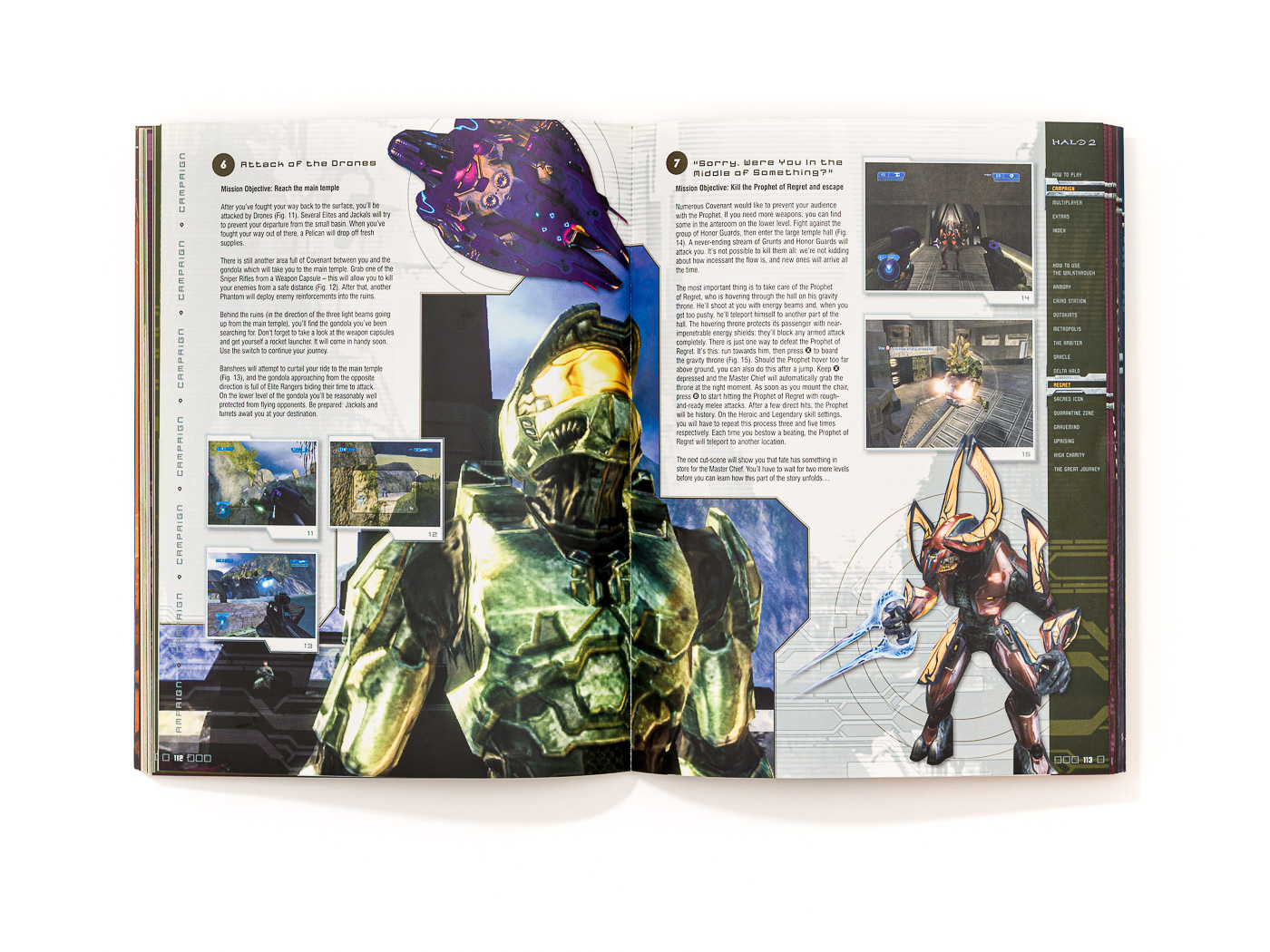 The entire sample page pack
All the sample pages from the Halo® 2 Official Guide available in one easy download.
Editions
| | |
| --- | --- |
| Image | |
| Edition | Standard Edition |
| Release date | 11/9/2004 |
| Pages | 230 |
| Binding | Softcover |
| ISBN | 0-7615-4473-9 |
| EAN | 978-0-761544-73-9 51699 |
| UPC | 050694031620 |
| Price | US $16.99 / CAN $23.95 |
| Availability | Sold out |
Reviews
"Makes a great game better"

"I have been a Halo fan for many years, but only started playing the games a few years ago. I started with Halo 3 and then obtained an original Xbox and Halo and Halo 2 for £30.00. I spent the next 3 months battling the denizens of the Halo world and loved every second. When I saw this I thought great – I had bought a guide for Halo 3 and loved the art work, it also helped me with some aspects of the game, especially with the more difficult levels. Not a cheat but for me a way of discovering a lot more about the game. Would recommend to anyone who is stuck or who just wants to get the most out of what are just the best games ever."

Amazon Customer Review, 01/15/2013
"Sets the standard for all next Halo guides"

"High quality! This is a great book about a great game. It sets the standard for all next Halo games guides. A must have if you're a fan. I am someone that bought all Halo guides pure for their 'collectibles' value and not for their 'guiding' but the extra information it gives you about the campaign makes you a more complete player. Can' say more than this. Oh and it looks good too."

Amazon Customer Review, 11/04/2010
"Highly recommended!"

"I bought this guide to help me become better at Halo 2 online via Xbox Live and it has helped. The guide is split into many parts like basic playing, the campaign, multiplayer hints and the multiplayer maps and has some great hints throughout. The maps for the levels are really well done especially since some of the larger maps like Headlong are quite complicated. I haven't really had more than a passing glance at the campaign section of the guide (because I didn't buy it for this) but it looks as good as the other sections. To sum it up – if you want help becoming a better player on Halo 2 this guide will greatly help you. Highly recommended!"

Amazon Customer Review, 12/04/2004