---
With over 3,500 moves to Soulcalibur™ II…
…and using official and exclusive artworks provided by Namco Ltd., this book is the most complete Soulcalibur™ II publication available.
This 246-page guide teaches you to master all moves of your preferred characters. It explains every possible move available, attack and defence, and it covers every weapon, in a clear, step-by-step way.
Features
All secrets revealed
Complete game system for both beginners and experienced gamers
More than 3,500 moves
Complete details to all weapons so that you learn to master all
Best moves for each character clearly explained step-by-step.
All 58 Chapters in Weapon Master Mode covered
Preview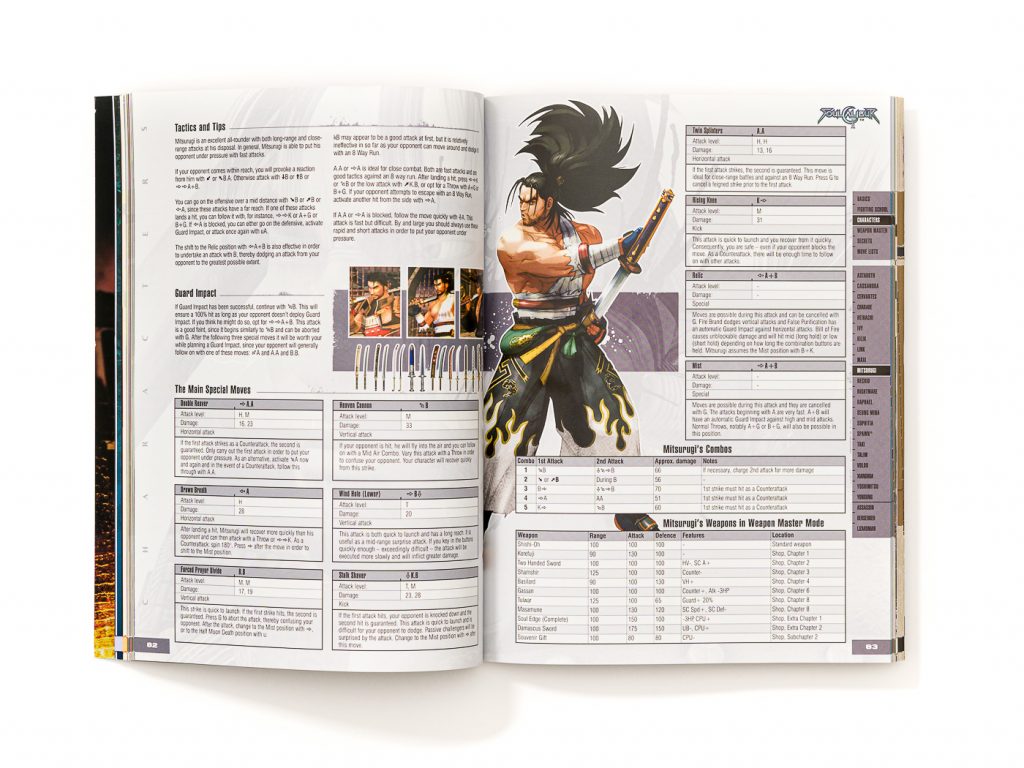 The entire sample page pack
All the sample pages from the Soul Calibur™ II guide available in one easy download.
Editions
| | |
| --- | --- |
| Image | |
| Edition | Standard Edition |
| Release date | 23/09/2003 |
| Pages | 246 |
| Binding | Softcover |
| ISBN | 1-903511-50-X |
| EAN | 978-1-903511-50-3 |
| Price | £4.99 |
| Availability | Sold out |
Reviews
"A new meaning of essential"

"This guide is great. It's essential to success when playing the game. It has overviews of the game modes, all of the characters and their moves and combos, the 58 chapters in Weapon Master Mode and a list of all the unlockable features. As well as all this, it has a section which focuses on everything from the basic button commands to mastering the game and becoming unbeatable. However, there could be a complete walkthrough to all game modes, and not just Weapon Master Mode. But overall, this is an invaluable acessory to a great game."

Amazon Customer Review, 15/10/2003
"Stylish strat guide for a stylish beat 'em game"

"I'm new to the series but I've wanted the game for quite some time. The normal arcade mode is easy, but when it gets to a certain point in weapon master mode, you will find the Soul Calibur 2: the Complete Official Guide is very handy. It will help you get some weapons for free and unlock extra characters, and some are very difficult to unlock such as Berserker, Lizardman and Assassin, but worth it. The drawings and high res shots in the book are amazing, but similar to the style of Tekken 4 artwork. I found that the book is a bargain, and helps the player practise the moves that aren't featured on the game's command menu. I first bought the book cos I wanted the artwork. It even tells you how long it would take to master each character, and who the character is ideal for."

Amazon Customer Review, 05/11/2003
"A serious add-on to any Soul Calibur player"

"As Soul Calibur 2 is maybe the best thing I've seen on a PS2, the Soul Calibur 2 Complete Official Guide is one of the best guides I've ever seen. Even if you forget about all the moves listed for ALL the characters in the game, all the secrets, all the Weapon Master Mode explained, all the advice on how to play this game at best (even with a section about fighting technique), this book is simply gorgeous for the characters biographies, for the amazing pictures, for the descriptions of the weapons, and for the sheer bulk of it. Every move is extremely well detailed, every weapon illustrated in full, every secret to unlock (and you have more than 80 of them) is clearly explained. If you like the game (and I can hardly imagine one that doesn't) you will like this book too."

Amazon Customer Review, 20/10/2003