---
This guide will light your way through the darkness as you struggle to break free from the oppressive confines of Room 302. But it's not just about survival. It's about delving deeper than ever before into the twisted Silent Hill mythology. Within these pages, the darkest secrets of South Ashfield Heights are revealed and the hidden connections between all four Silent Hill games uncovered!
Features
How to unlock all four endings
Comprehensive secret weapon dossier
All you need to know about special gameplay modes
Complete step-by-step walkthrough
Detailed maps of every location
Every item, weapon, document, monster and character
The complete story revealed, including the developers' official interpretation
Preview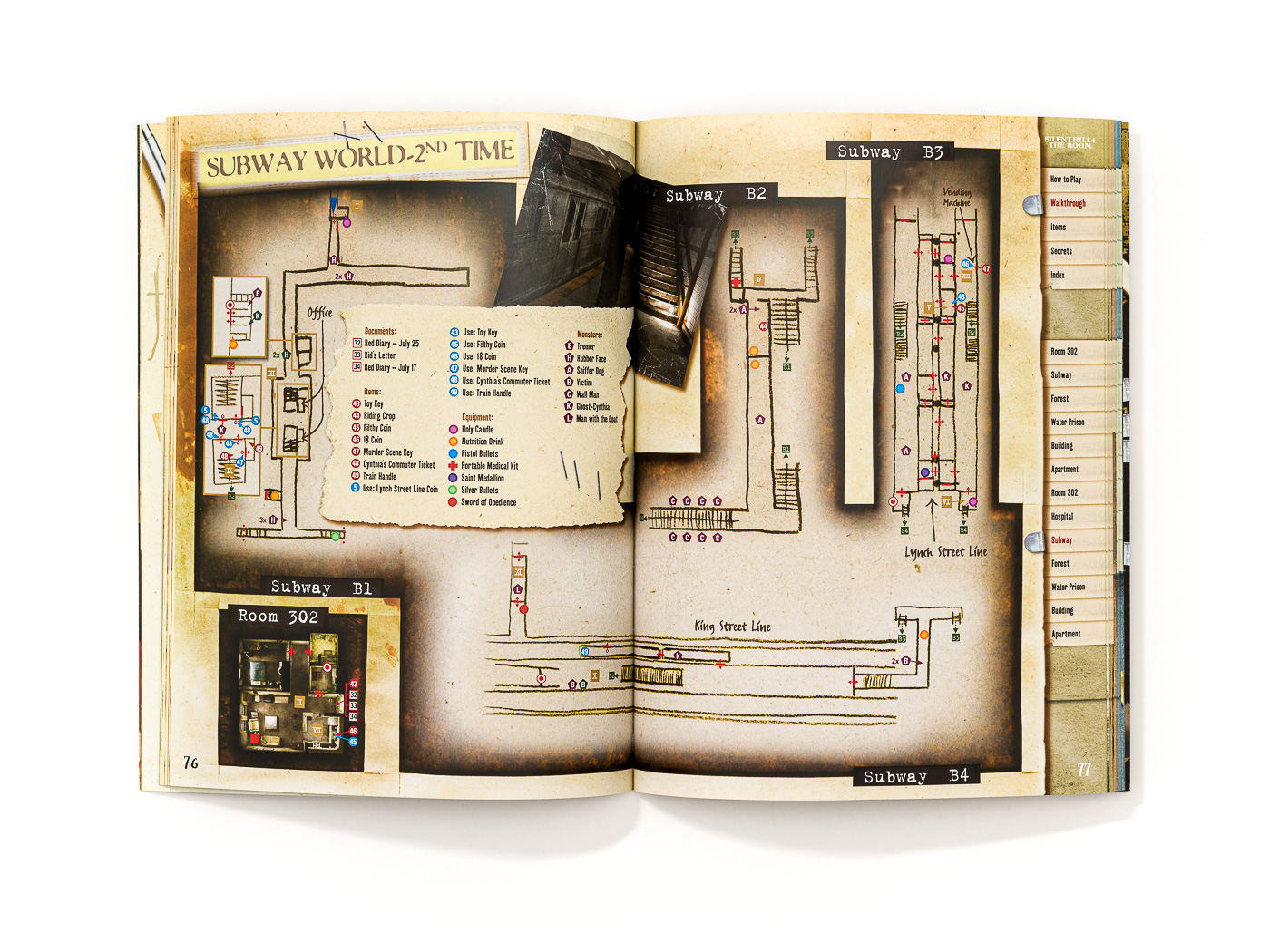 The entire sample page pack
All the sample pages from the Silent Hill 4 – The Room™ Official Guide available in one easy download.
Editions
| | |
| --- | --- |
| Image | |
| Edition | Standard Edition |
| Release date | 17/09/2004 |
| Pages | 156 |
| Binding | Softcover |
| ISBN | 1-903511-61-5 |
| EAN | 978-1-903511-61-9 |
| Price | £9.99 / EUR 14.99 / AUD 29.95 |
| Availability | Sold out |
Reviews
"A must-have for any fan"

"As a huge fan of all things Silent Hill, this compliments my little collection quite nicely. The walkthrough is accurate and to the point and has tips and secrets in it. The artwork is really cool too and make the book even more attractive to me. A must-have for any fans of Silent Hill 4: The Room and an eye for good art!"

Amazon Customer Review, 14/06/2010
"Absolutely superb!"

"Put simply, this book is the most detailed and by far the most beautifully presented walkthrough I have ever seen. I say 'beautiful', this is Silent Hill… – the book is presented in the form of some kind of scrapbook with strange crawly things all over the pages. It really fits the game it goes with and is a delight to refer to and massively enhances the overall playing experience. Add to that the fact that the information is so specific, easy to understand and complete, and at such a low price… Put simply, if you are getting Silent Hill 4 (brilliant, genius game by the way) then you HAVE to get this book."

Amazon Customer Review, 04/03/2005
"A true collector's item, exceptional"

"This book will unravel all the mysteries of Silent Hill. With an impressive Walkthrough covering all details to help you conquer your fear and help you escape Room 302. Boasting a unique page design where every page is different from the last and exceptional artwork from both the developers and Piggyback themselves. Easy to understand maps accompanied with a key which explains itself to ensure you never miss an item. Survival tips for both novices and seasoned gamers that explains the whole system unique to Silent Hill 4. Discover all the secrets of South Ashfield Heights along with story connections and interpretation from the creators themselves. Without this book, even after finishing the game, Room 302 will still be a mystery and your experience will not be the same. A true collector's item and not to be missed by any Silent Hill fan, exceptional."

Amazon Customer Review, 25/10/2004