---
Pro Evolution Soccer 6: The Expert Guide has been created by an elite panel of Pro Evo virtuosos. Written in conjunction with the PES6 development team in Japan, it features everything there is to know about the game. This book is packed with diagrams and illustrations, offering all the information you need in bite-sized chunks for easy fingertip reference. As if that were not enough, it also comes with an exclusive free DVD…
The official PES6 Expert Guide is a MUST READ for all aspirant Pro Evolution Soccer professionals.
Features
Ultimate Team & Player Guide with tactical advice, winning formations and tips on how to realise the full potential of the world's best teams
Free DVD containing footage of over 150 moves, shots, tricks and advanced techniques, as well as an exclusive interview with PES creator Seabass
Completely new Coaching Manuel explains the use of every single move with numerous images and diagrams
Brand-new Secret Moves & Tricks chapter with undocumented tricks and techniques used by professional-level PES players.
All-encompassing insider information on the underlying mechanics of PES6, including effective tactics & strategies, condition arrows, player abilities, stamina, the Teamwork system, and much more.
All there is to know about the Master League with details on squad management, player development, and a comprehensive Talent Guide
Downloads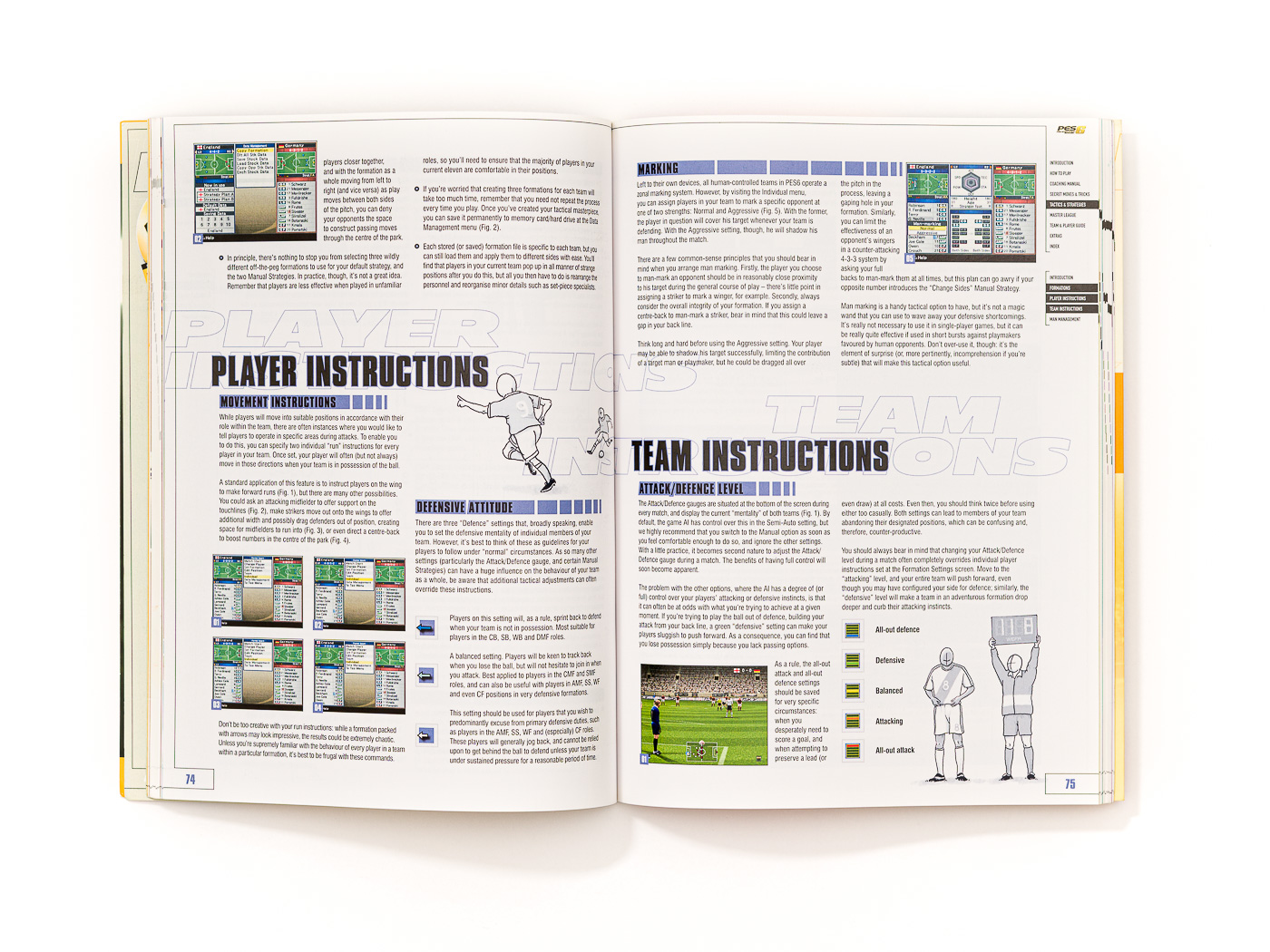 The entire sample page pack
All the sample pages from the Pro Evolution Soccer 6 Expert Guide available in one easy download.
Editions
| | |
| --- | --- |
| Image | |
| Edition | Standard Edition |
| Release date | 27/10/2006 |
| Pages | 174 |
| Binding | Softcover |
| ISBN | 1-903511-94-1 |
| EAN | 978-1-903511-94-7 |
| Price | £11.99 / EUR 14.99 / AUD 34.95 |
| Availability | Sold out |
Reviews
"Huge and comprehensive guide – essential"

"The PES 6 Bible! This book & DVD is amazing. If you play PES 6 you will get so much more out of the game from this huge and comprehensive guide. Essential."

Amazon Customer Review, 25/09/2008
"When you thought PES 6 couldnt get better!"

"Great guide to a great game! Learn new features you may not find during use of PES 6 including new skills, tactics and unlockable things. Great value for money and the free DVD is a great bonus. Also has reviews of most major teams and images and facts about every stadium in the game, there are more than you think. For any PES fan who wants to improve their game or just impress their mates with new tricks."

Amazon Customer Review, 01/11/2006