---
The latest game in the Metal Gear Solid® series is an epic, feature-packed adventure. Designed for use by veterans and newcomers alike, this comprehensive strategy guide details everything you'll ever need to know about Hideo Kojima's latest masterpiece – and much that you might never have imagined…
Features
Exposed: Every secret, every weapon, every last inch explored and documented
Uncovered: Alternative strategy guide details hidden items, tricks and techniques
Investigated: The story behind the Metal Gear Solid trilogy
Detected: All collectables revealed – including animals and plants
Plus: Perplexed by strange plastic frogs? We'll explain what they are, why they exist, and how you can fi nd every single one!
Helpful: The perfect path through the adventure
Concise: Detailed annotated maps of every area
Reliable: Tried and tested strategies and tactics developed by gaming experts
Ultimate: Tips for fighting against level bosses on Extreme
Preview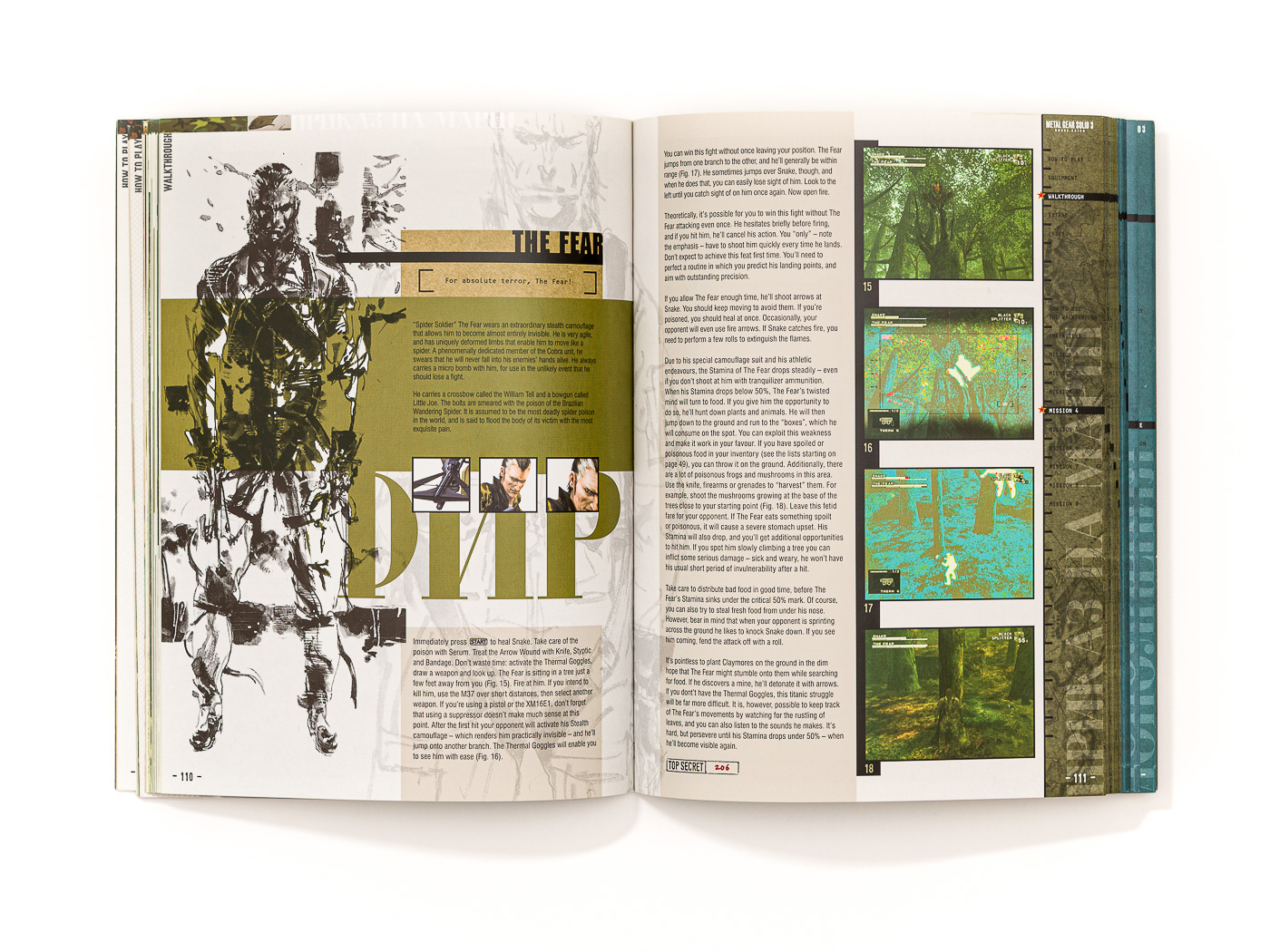 The entire sample page pack
All the sample pages from the Metal Gear Solid® 3 Snake Eater™ Official Guide available in one easy download.
Editions
| | |
| --- | --- |
| Image | |
| Edition | Standard Edition |
| Release date | 03/03/2005 |
| Pages | 234 |
| Binding | Softcover |
| ISBN | 1-903511-71-2 |
| EAN | 978-1-903511-71-8 |
| Price | £10.99 / EUR 14.99 / AUD 29.95 |
| Availability | Sold out |
Reviews
"To fully appriciate MGS3, buy this"

"This guide is very good. It is of brilliant physical quality. The walkthrough is very comprehensive, often giving you multiple strategies to clear the part it's describing in the way that you want to, complete with maps showing item and troop paths. The section at the back is complete with the games quirks and secrets. It also has a story analysis and overview of the whole series which is very helpful for the sometimes confusing but always entertaining plot. The section at the front describes the controls, moves, items, suits and more. I cannot recommend this guide enough. If you haven't got Snake Eater, I'd advise to go for Subsistence, because the camera in the original is not very good at all. That is what I did and this guide was perfect for it."

Amazon Customer Review, 17/09/2007
"Brilliant!"

"An amazing guide to an AMAZING game, you really don't know what you're missing without this book, it makes the game so more diverse in showing you tips and tricks to make your life more interesting. Amazing quality information with detailed guides in picture and text form. I would highly reccomend this book to anyone with the game! I'd give it 6 out of 5 if I could!"

Amazon Customer Review, 14/06/2005
"An elite guide!"

"I decided to buy this guide to uncover all secrets that I heard Metal Gear Solid 3 has and I was not let down at all. The guide has many chapters that cover the gameplay basics, walkthrough for the game, Snake vs. Monkey minigame coverage as well as over 35 pages of extras. It has maps with guard positions, which is very helpful because there is no longer radar and it is difficult to know where guards are, and locations of all the items and food you can find during each area of the game. The extras chapter is amazing and gives you background information on the other Metal Gear Solid games, all of the stories and the location of all the hidden fog. This is a great guide and if you want to discover everything there is about Metal Gear Solid 3 you must get this."

Amazon Customer Review, 11/03/2005