---
Features
Overview of all cars to help you choose your optimal vehicle. Couple this with a detailed rundown on the tuning categories and their corresponding options and you become a serious contender for every course.
Explanation of all car dynamics and driving physics to improve your lap times.
Entire information to the universe of GRAN TURISMO® 3 A-Spec Arcade-Mode, Gran-Turismo-Mode, Video-replays, 2 Player head-to-head- and i.LINK Battle Mode. Also racing controls, steering interface, handling and complete overview of all options.
Tried-and-tested driving tips for all 48 license tests and an individual presentation of each track, analysed in both directions
An "A" to "Z" glossary where we explain all essential terms from the world of motor sport and a comprehensive guide index for quick reference
And that's not all: this book reveals all the game's secrets, so you can release the hidden cars and tracks…
Preview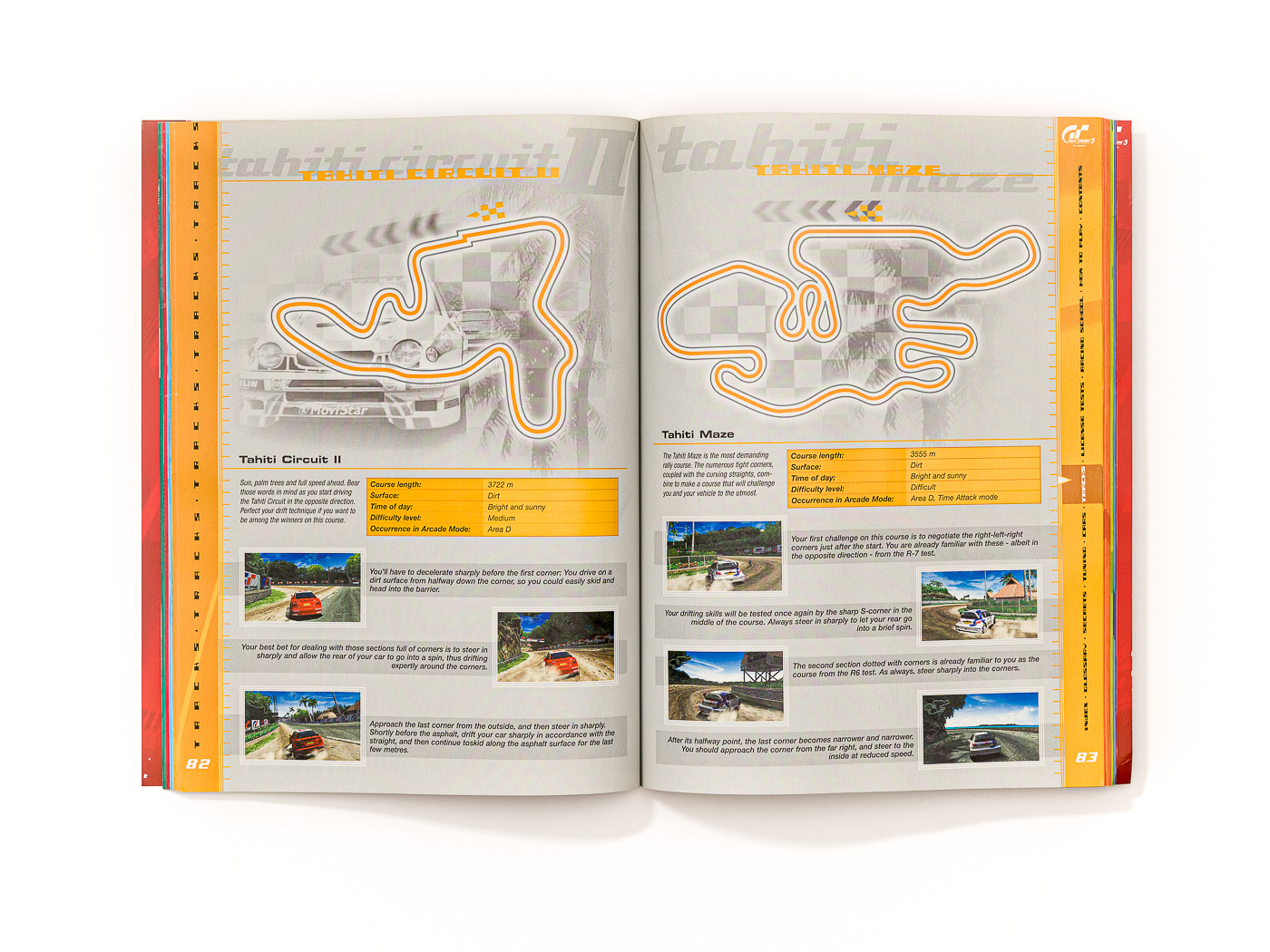 The entire sample page pack
All the sample pages from the Gran Turismo® 3 guide in one easy download.
Editions
| | |
| --- | --- |
| Image | |
| Edition | Standard Edition |
| Release date | 20/07/2001 |
| Pages | 164 |
| Binding | Softcover |
| ISBN | 1-903511-18-6 |
| EAN | 978-1-903511-18-3 |
| Price | £9.95 |
| Availability | Sold out |
Reviews
"Fantastic – a must-have!"

"This book is a must need for Gran Turismo 3 owners with its fantastic strategies and secrets that will surely make you a Gran Turismo 3 freak. The book also gives you a breakdown of the cars and the tracks and what cars to race in certain tracks – like I said, a must-have!"

Amazon Customer Review, 31/07/2001
"Let me tell you, this guide was worth it"

"I bought like many others Gran Turismo 3 A-spec for the PS2. I then heard that they were selling a guide for it, I thought long and hard to spend my money for it, and let me tell you, it was worth it. […] I hope you enjoy this guide, I did."

Amazon Customer Review, 01/10/2001
"Very thorough and extensive"

"Great book for Gran Turismo fans! This book is not a must-have, but a very prized possession for any Gran Turismo 3 fan. It is very thorough and extensive."

Amazon Customer Review, 01/08/2001