---
100% Final Fantasy®
Spira's every secret, every side-quest and every mini-game is uncovered in this 238-page official encyclopaedia. Use exclusive information from the game's developers to experience the ultimate game ending. The detailed and complete Secrets chapter will reveal all that there is to encounter in this vast role-playing game.
Features
Complete game system for both beginners and experienced gamers
Every detail on all items
Detailed information about all of the monsters
All secrets revealed
100% walkthrough
Optimal strategies to apply against bosses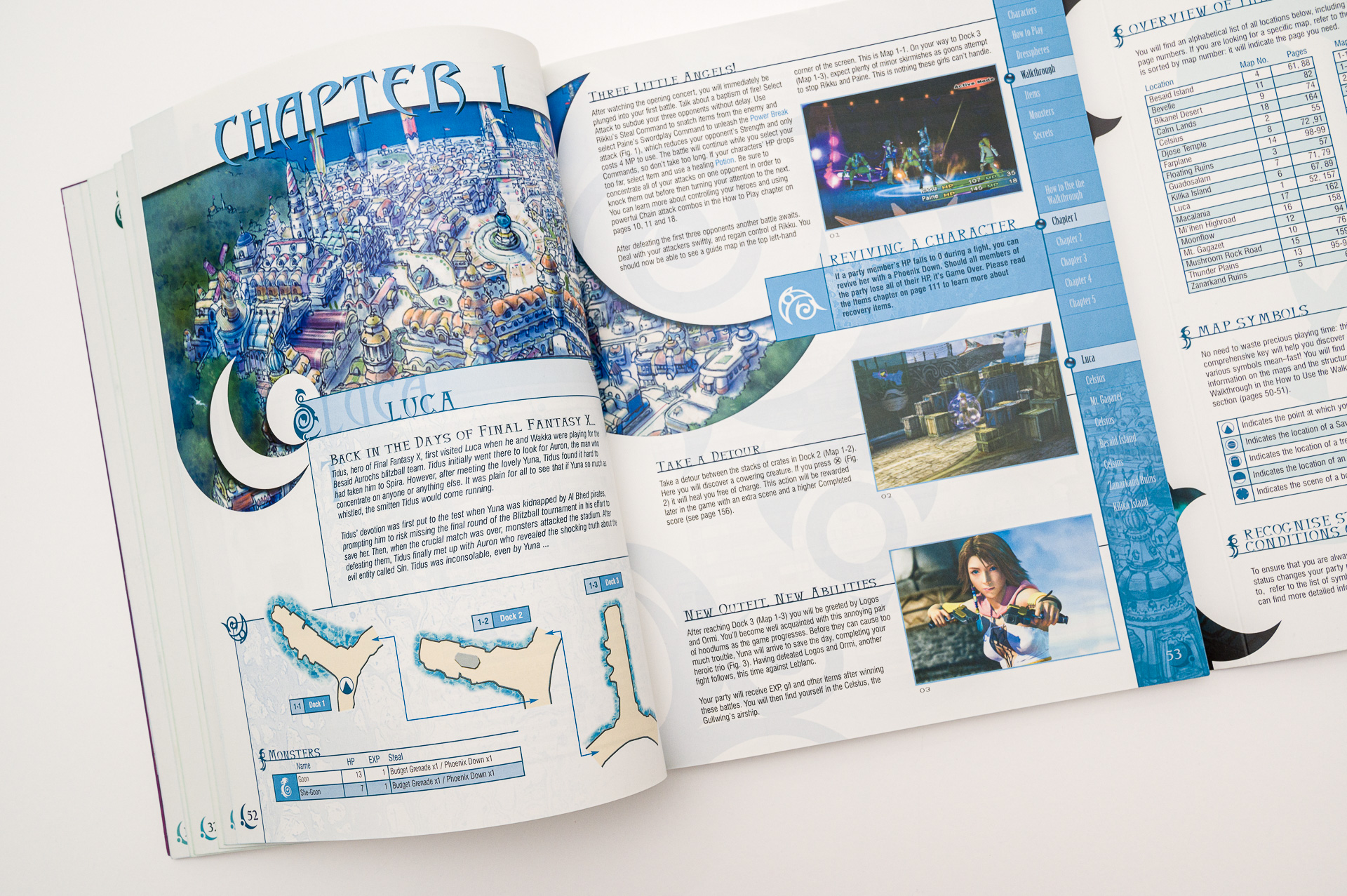 Preview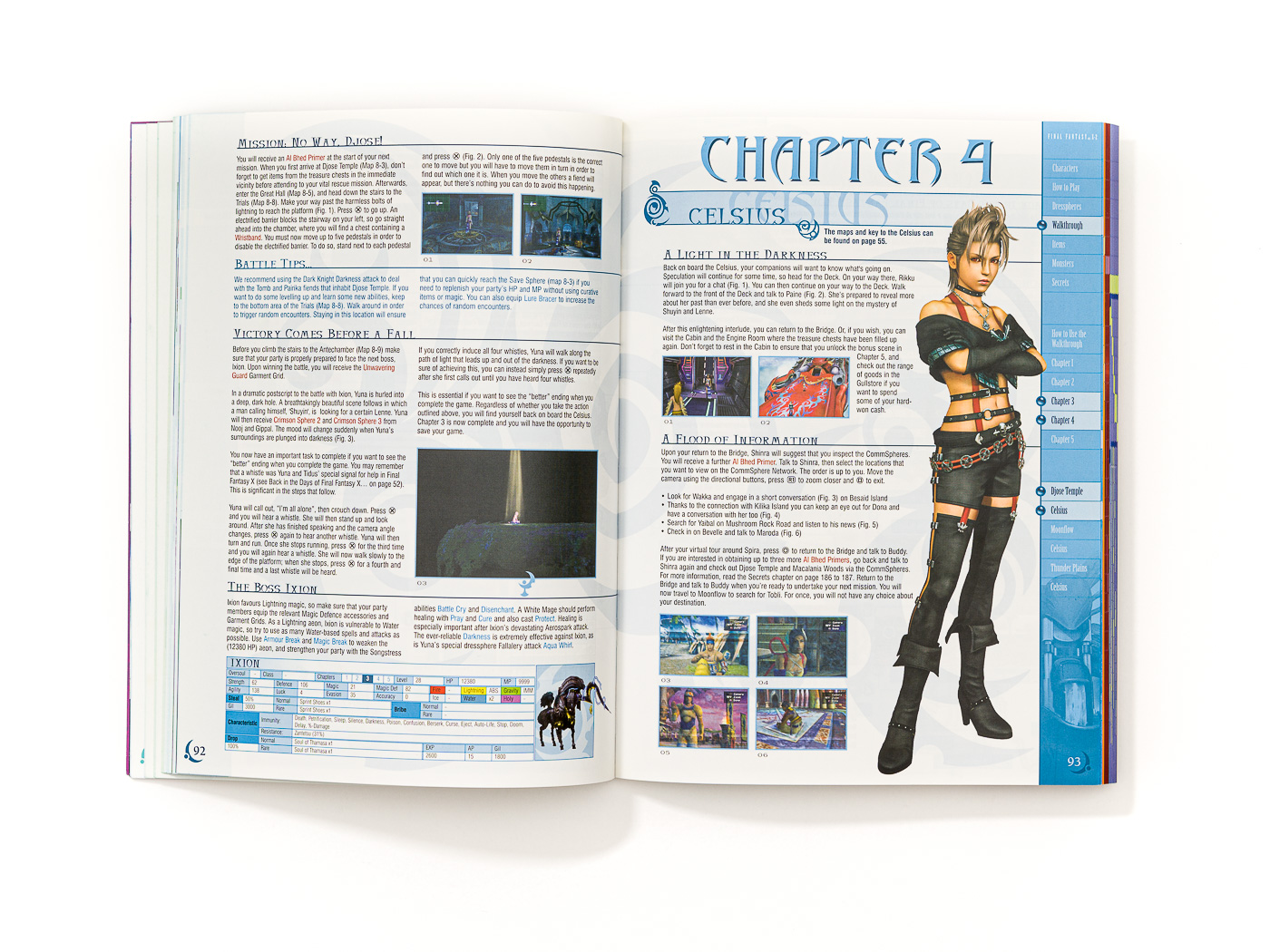 The entire sample page pack
All the sample pages from the Final Fantasy® X-2 official guide available in one easy download.
Editions
| | |
| --- | --- |
| Image | |
| Edition | Standard Edition |
| Release date | 13/02/2004 |
| Pages | 238 |
| Binding | Softcover |
| ISBN | 1-903511-53-4 |
| EAN | 978-1-903511-53-4 |
| Price | £12.99 / EUR 14.99 / AUD 34.95 |
| Availability | Sold out |
Reviews
"Awesome!"

"This book is really well presented and easy to follow. I was able to get 100% and complete every possible side quest with this book, as well as the bestiary and acquired all the dresspheres. The book is laid out so you don't accidentally miss anything, and tips are given for bosses, as well as maps of all the areas. I liked the comprehensive item lists as well. I think I can use this book again in the HD version to get the Platinum trophy. Highly recommended for completionists out there."

Amazon Customer Review, 19/01/2014
"Piggyback has delivered once again"

"Piggyback has delivered another high quality, accurate and full informed guide book once again. The maps are well detailed, with easy-to-read icons for treasures and other important things. Combined with easy-to-read walkthrough and the maps, it helps you to get past any obstacles. All the accessories, Garment Grids, dresspheres and other important items that can help you survive throughout the game, are all listed here. The useful "Monsters" list is also included, listing all the monsters' strengths and weaknesses, including the bosses. The main and important thing about this guide is, as ever, the "Secrets" part. It will help you to get all the secrets and help you to boost your completion score further. Without this, you would take a very long time to reach the 100% completion score. Recommended!"

Amazon Customer Review, 01/03/2004
"If you own the game then this book is a must"

"Whether it just be you're stuck in a certain area or you want to know what you are missing this book doubles the enjoyment of your game and future games of Final Fantasy X-2. I bought this purely because I wanted to learn how to get some of the more elusive dresspheres but now I'm on a quest to get them all! Just because this book gives you the answers to the puzzles (you don't have to read those sections) it doesn't mean you wont stop enjoying playing the game. If you've clocked up 10 hours of play then now is about the time you should buy this. It's also a beautiful book inside and out and very good value."

Amazon Customer Review, 08/03/2004