---
Execution is everything
"With a whole new design philosophy focusing on open-ended missions, in a world teeming with challenges and secrets to be found, you will find this extensive book to be an invaluable companion as you explore the merciless streets of 18th-century revolutionary Paris. Within its densely packed pages lie the answers and insights that will help you make the most of your gaming experience and reap countless invaluable rewards – all of this laid out with an emphasis on stunning game visuals and art.
With this outstanding guide in hand, I trust that you will have as much fun playing Assassin's Creed Unity as we had creating it."
Alex Amancio, Creative Director of Assassin's Creed Unity
Features
Your visual guide to 100% completion: At-a-glance, annotated next-gen screenshots lead you through every moment of the adventure.
All game systems decoded: Combat, skills, weapons, economy, unlockables, puzzles – all fully analyzed by our experts to maximize your potential.
All in one: All secrets, bonuses, rewards, collectible items, hidden destinations, Trophies and Achievements… you won't miss a thing.
Co-op missions guide: Hi-res screenshots and walkthroughs highlight effective routes and strategies for all co-op challenges.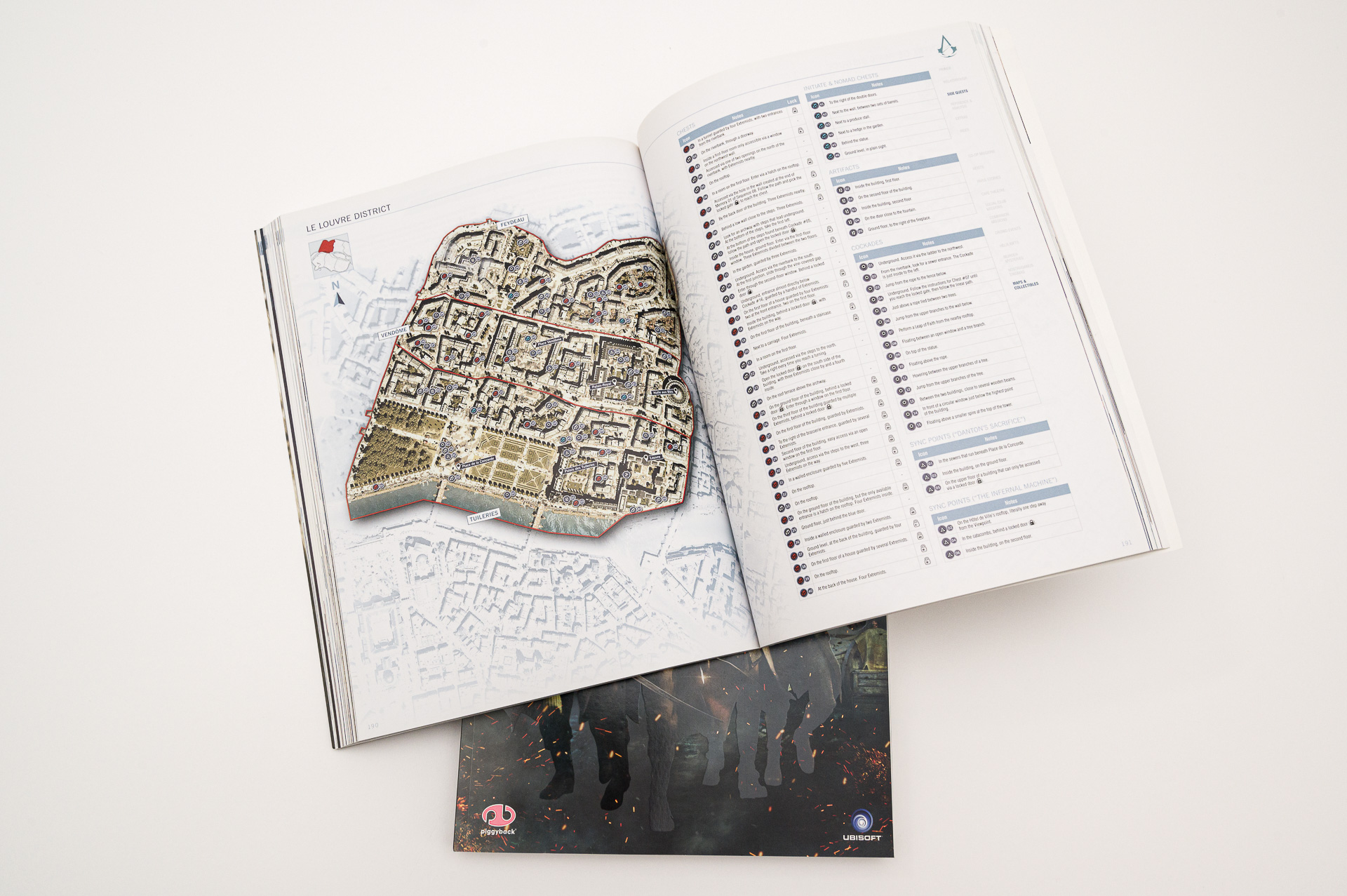 Editions
| | |
| --- | --- |
| Image | |
| Edition | Standard Edition |
| Release date | 14/11/2014 |
| Pages | 312 |
| Binding | Softcover |
| ISBN | 978-1-908172-67-9 |
| EAN | 9781908172679 |
| Price | £14.99 / EUR 19.99 |
| Availability | Sold out |
Preview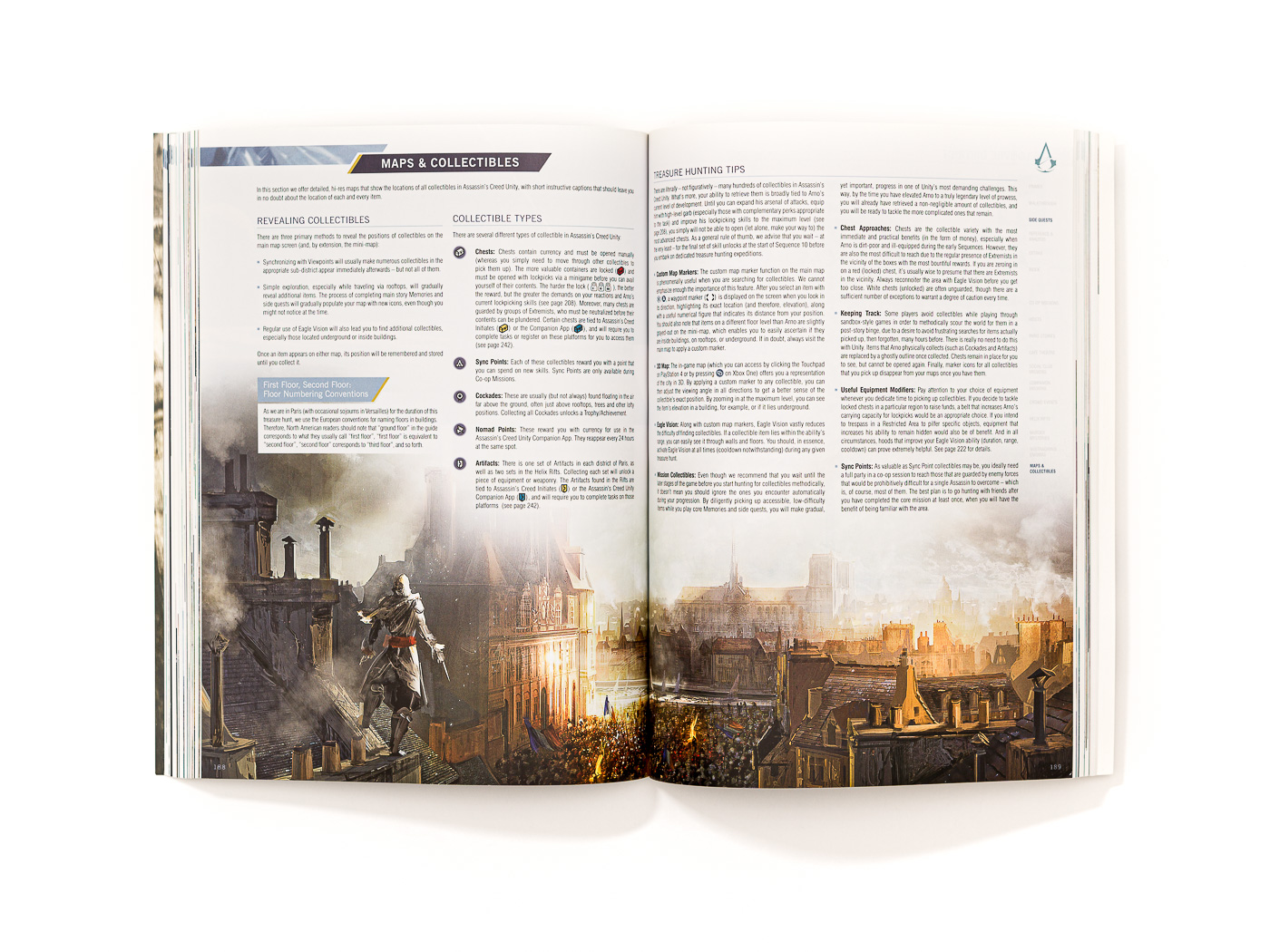 The entire sample page pack
All the sample pages from the Assassin's Creed Unity Complete Official Guide available in one easy download.
Reviews
"Piggyback does it again!"

"A guide a notch above the rest: Piggyback does it again! A simply beautiful and very helpful guide for the game so you can be sure to achieve complete synchronization and collect everything the game has to offer."

Amazon Customer Review, 08/01/2015
"Great guide even for inexperienced gamers"

"I purchased this guide in the paperback version. I prefer my guides to be paperback because they are not so big and bulky that way. As a gamer, I am not very serious, but I do like to find the ins and outs of a game. This guide does an excellent job providing walkthroughs, but they also describe the story and give you helpful tips on getting everything out of this game. I especially like the fact that they mostly give you general tips on the walkthrough and leave it up to your playing style. There is also good descriptions on the many side quests. My favorite piece of this was their analysis on what tasks are worth completing at what part of the game. Overall, I am very satisfied with my purchase, this is definitely worth the price."

Amazon Customer Review, 19/11/2014
"Well worth its price"

"I would like to inform any players that are considering this game guide that it is well worth its price. The book features several pages that explain the story, share analysis, and describe locations. Not only does it explain how to complete each section, in many cases, it provides useful information as to why or when to complete the task. For example, a chest may be locked behind a door or gate that can only be accessed when a Paris Mission has been completed. It not only provides the location, but the information on how to unlock the gate and when it will become available. This is also a useful tool in finding the Enigma pieces. It gives the location and explains its answer. I would also like to point out that it is organized in a very logical way. It does not have a lot of "page jumps" from mission to mission and each item can be located very easily. In addition, if you're like me, I tend to collect these books. It is a very nice piece in my collection for the artwork and helpful information alone."

Amazon Customer Review, 16/11/2014