---
Reveal it all!
"In the spirit of building on past Assassin's Creed adventures, it was only natural to partner with Piggyback on this guide. Working closely together, we have made sure this book is totally comprehensive; from the main storyline to all side quests and background analysis, from all secrets to specifics on the most difficult challenges. Every detail has been compiled here in order to enhance your gaming experience; all information has been carefully presented so that you advance through the game at your own pace."
Martin Schelling, Producer of Assassin's Creed Revelations
Features
ALL SECRETS INCLUDED: Totally comprehensive – all collectible items, hidden destinations, unlockable bonuses, Achievements and Trophies… you won't miss a single reward.
EXPERT-EASE: Proficient stats, expert diagrams and in-depth analysis present a comprehensive understanding of the game's many systems and features.
EXTENSIVE STORY ANALYSIS: Includes a 22-page breakdown of key characters, events and concepts across the entire Assassin's Creed series to date.
MULTIPLAYER SECTION: Packed with expert tips, hi-res maps and detailed tables.
USER-FRIENDLY WALKTHROUGH: Annotated visual solutions and clear text instructions present a streamlined path to 100% completion.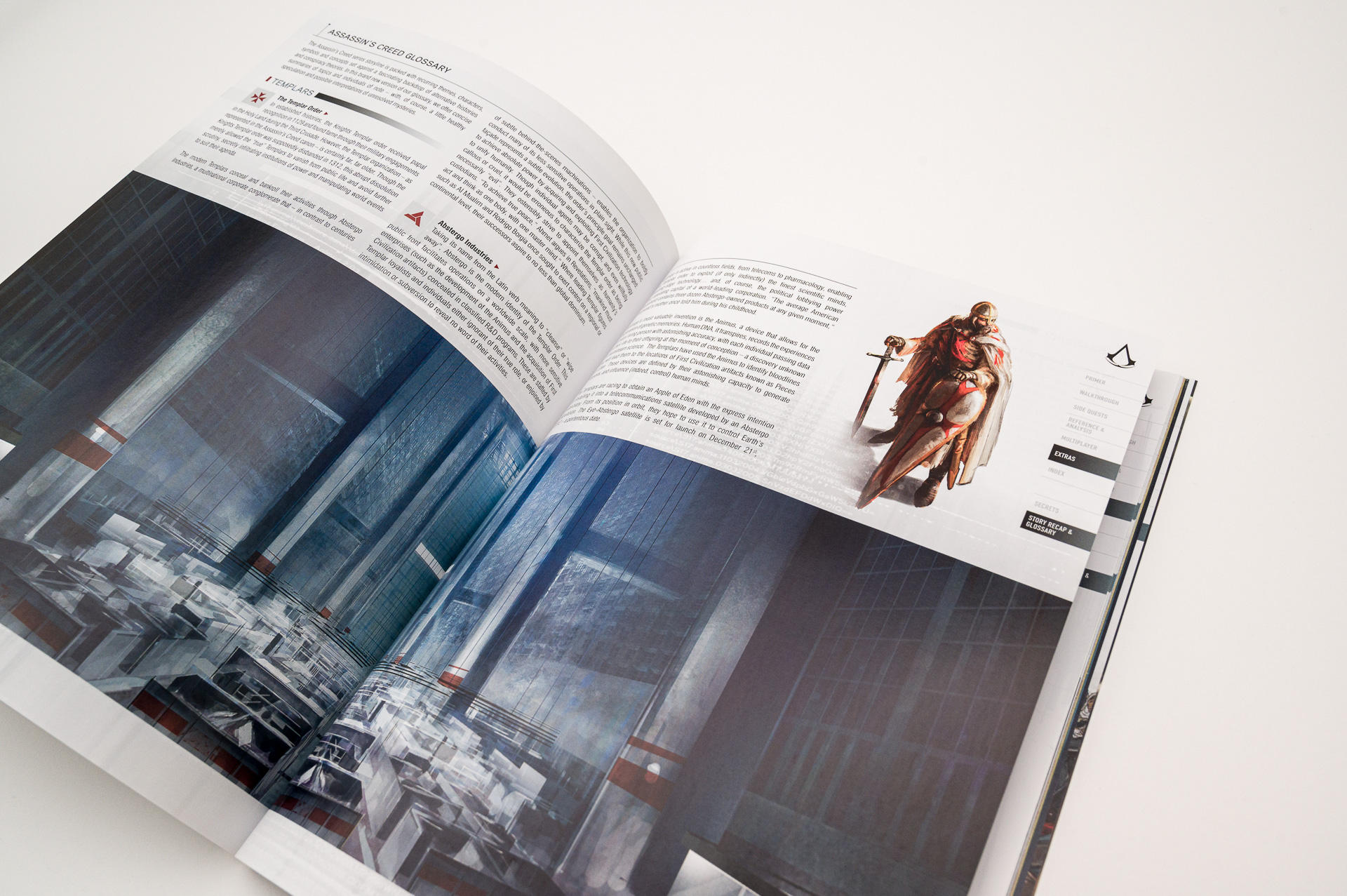 Preview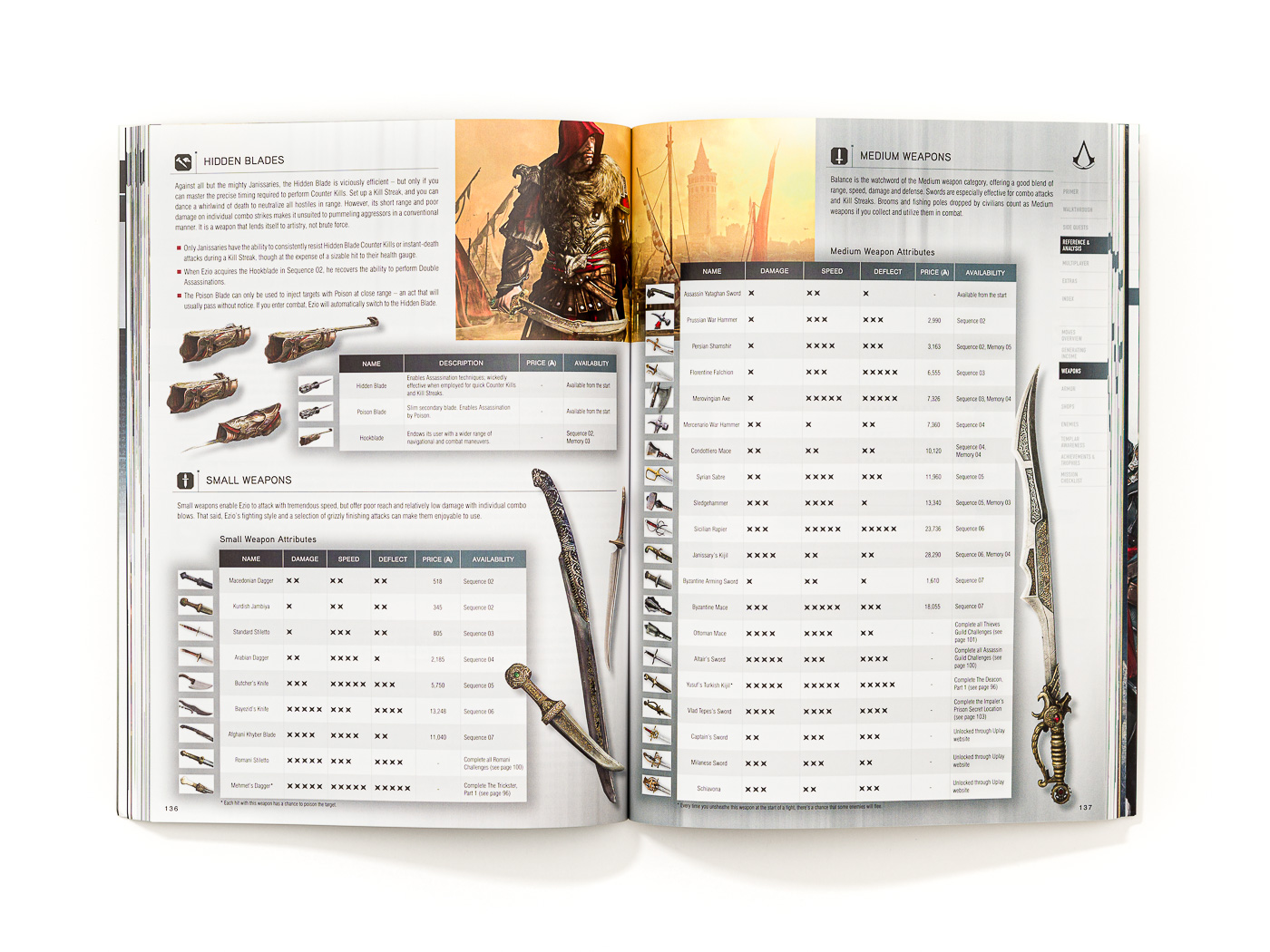 The entire sample page pack
All the sample pages from the Assassin's Creed Revelations Complete Official Guide available in one easy download.
Editions
| | |
| --- | --- |
| Image | |
| Edition | Standard Edition |
| Release date | 15/11/2011 |
| Pages | 244 |
| Binding | Softcover |
| Bonus | Exclusive 16-page section featuring sketches of previously-undisclosed moments from Altaïr's life. |
| ISBN | 978-1-908172-05-1 |
| EAN | 9781908172051 |
| Price | £12.99 / EUR 15.99 |
| Availability | Sold out |
Reviews
"Piggyback is the best in this field"

"The guide is first class in comparison with other games guides. Piggyback is the best in this field, and they really took their time to write and publish the guide. It's totally spoiler-free: the section which has spoilers has spoiler warnings on it. The walkthrough is very clear and they try to explain each and everything of the game, which is really helpful. The guide comes with five laminated multiplayer map cards with one access code that allowes users to get the all collectible maps from the site. […] Overall the guide is a good collectible to have. It's recommended for those who like all the extra stuff in a game and want to complete it 100%. Or simply for those who like to collect a decent collector's edition guide."

Amazon Customer Review 02/01/2012
"Just a beauty of a book"

"Piggback & Ubisoft – once again set the bar! With the latest book of theirs, I'm amazed at the level of detail and beauty that they put into their strategy guides. They are as beautiful as the games they represent and teach about. I highly recommend this product. This is the case with all of the books thus far in the AC series (especially starting with ACII) – detailed and just a beauty of a book. If you have earlier AC games and wonder about whether or not to get the guides, I'd enthusiastically say YES! You may think you've done everything, but chances are: you didn't. Also, the book really goes into the story so well. Just as important as what the book explains is what it protects. It tries very hard to not be a spoiler. It gives just enough hints generally for you to find your own way without killing your fun of discovery."

Amazon Customer Review 18/11/2011
"One of the best items I've ever purchased"

"The best guide you can buy for Assassin's Creed: Revelations! One of the best items I've ever purchased. High quality content, every information you will ever need about Assassin's Creed: Revelations is included in this guide. Highly recommended! Buy it before the stock runs out as this is a limited edition hardback game guide."

Amazon Customer Review 16/01/2012