---
Completely Revolutionary!
"Make no mistake: in addition to the main adventure, Assassin's Creed III is a gigantic world with comprehensive systems and a wealth of optional quests and challenges offering dozens of hours of gameplay. This book is your travel guide to our world. Piggyback has produced a guide outstanding in every way: it is 100% complete, user-friendly with a strong focus on game visuals and art. If you want to make the most of your game, look no further."
Alex Hutchinson, Assassin's Creed III Creative Director
Features
ALL SECRETS: All unlockables, all bonuses, all collectible items, all hidden destinations, all Achievements and all Trophies… you won't miss a thing.
AUTHORITATIVE: Statistics, diagrams and analysis from our experts provide a comprehensive understanding of all game systems and features.
MULTIPLAYER SECTION: Packed with a wealth of insights, advanced tips and hi-res maps.
REVOLUTIONARY WALKTHROUGH: An at-a-glance walkthrough covers every step of the adventure supported by detailed, annotated screenshots.
STORY ANALYSIS: Includes a series retrospective and breakdown of all major plot events and mysteries, with insightful speculation on future developments…
Complete Map Poster with all collectibles marked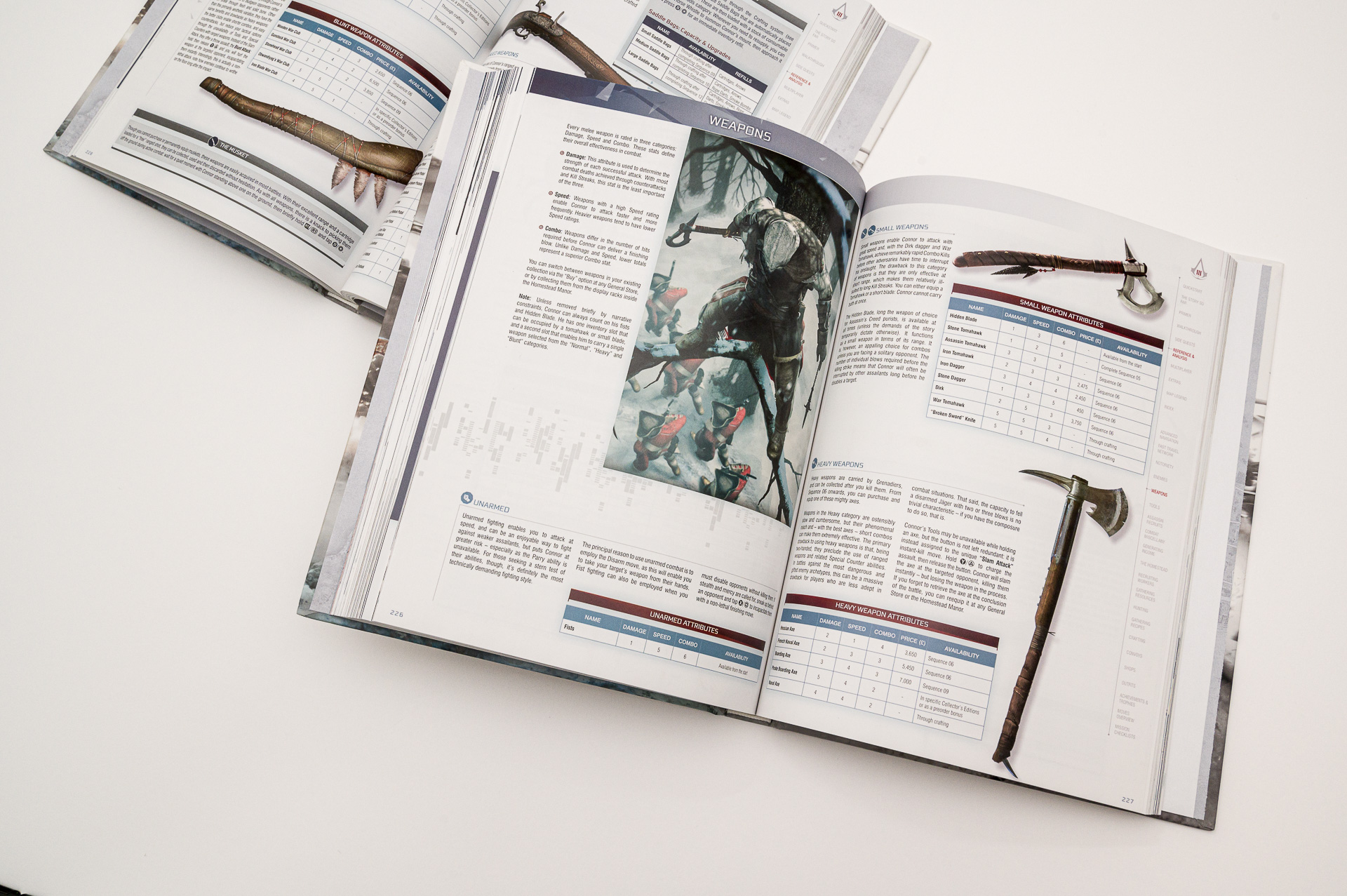 Editions
| | |
| --- | --- |
| Image | |
| Edition | Standard Edition |
| Release date | 31/10/2012 |
| Pages | 340 |
| Binding | Softcover |
| Bonus | An exclusive 16-page "History vs. Story" section presents the game's story with real-life history of the period interwoven with commentaries from scriptwriter Corey May. |
| ISBN | 978-1-908172-20-4 |
| EAN | 9781908172204 |
| Price | £14.99 / EUR 19.99 |
| Availability | Low stock |
| Purchase Options | |
Preview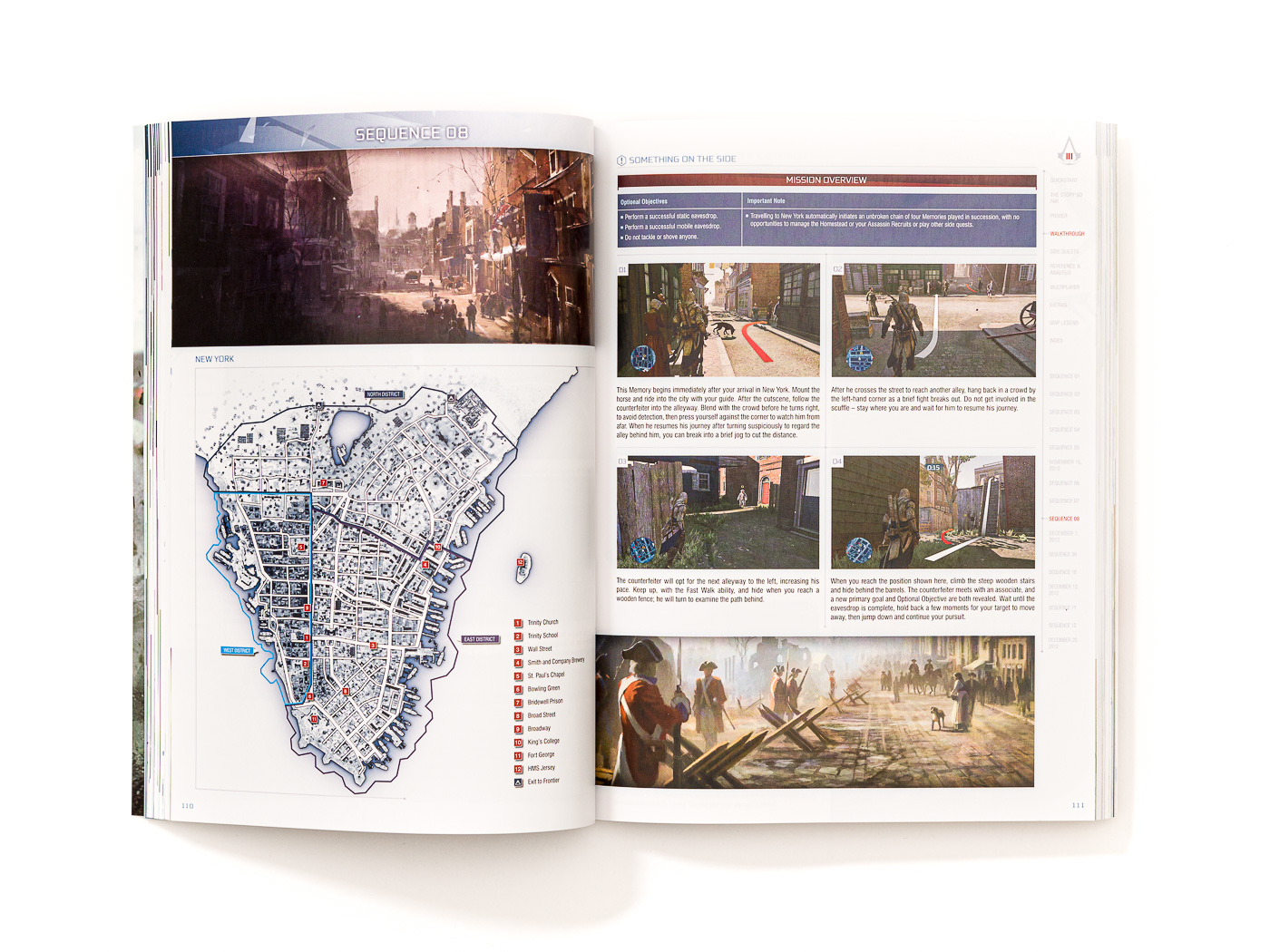 The entire sample page pack
All the sample pages from the Assassin's Creed III Complete Official Guide available in one easy download.
Where to buy
Guide Retailers in Your Country
Denmark
Finland
Ireland
Norway
Netherlands
Sweden
United Kingdom
Reviews
"A great add to your collection!"

"Let me start of by saying: I love Piggyback game guides! They are always extremely thorough in content, detail and strategy and provide many useful tips for players. As I skimmed through the AC3 guide, I found the little "refresher" course at the beginning an excellent source on the storyline up until this point, as it has been quite a while since I've played through all the games, so it was nice to just quick refresh my mind. I also like that the illustrations are beautiful, bright and clearly demonstrated/shown. I've collected several gaming guides over the years and none of them are as thorough in illustration or strategy as Piggyback guides are! The Assassin's Creed III guide is my fourth from Piggyback and it has proved to be a very helpful tool. If you are one that typically struggles through games, this guide is for you, as it provides some really useful tips/strategy. Or if you simply collect guides or want it more for the art or what have you, this will be a great add to your collection!"

Amazon Customer Review 03/11/2012
"This guide has everything you could possibly need"

"I've had Assassin's Creed 3 since the launch date and I have to say this is the best Assassin's Creed game I have ever played, and I own them all. This guide is really amazing plus it even comes with a map of all the collectibles. The map looks like it came from that era. The guide is useful because it shows you how to craft different ingredients among many other things. It has everything you could possibly need for the game. I am still playing the game and I haven't looked through the guide that much, but when I play it through again I will probably use it more."

Amazon Customer Review 04/11/2012
"Another beautiful guidebook from Piggyback"

"Excellent layout and colorful illustrations throughout. I like the supplemental flow chart that points you to the appropriate section of the book if you need some general backstory or greater detail on the previous storyline. This really helps you find info you're looking for without stumbling into a spoiler. I'm a guidebook collector, especially of hardcover guidebooks, and I can tell you this guidebook is as beautiful and informative as the books for the prequels to AC3."

Amazon Customer Review 01/11/2012