---
Never rome alone!
"The Ubisoft and Piggyback teams have collaborated tirelessly, day after day, to create a guide that will help you enjoy each moment of discovery, and to reap the benefits of the rewards on offer. Whether you need a casual travel companion, or authoritative direction to achieve mastery of all challenges, this book will answer every question that you may have – and many others that might not otherwise have occurred to you."
Vincent Pontbriand, Producer of Assassin's Creed Brotherhood
Features
All optional activities laid bare in a huge and utterly comprehensive 46-page Side Quests chapter. Every last collectible item, optional mission walkthroughs, unlockable rewards, ultimate armor, Borgia flags, Achievements & Trophies – yes, it's all in here!
The multiplayer section includes expert tips and area maps, plus a complete overview of the scoring system.
The user-friendly walkthrough has clear text instructions, precision screenshots and detailed maps that will lead you through the game, step-by-step.
The "Reference & Analysis" chapter scrutinizes every aspect of the Brotherhood experience, with a focus on practical, high-level information.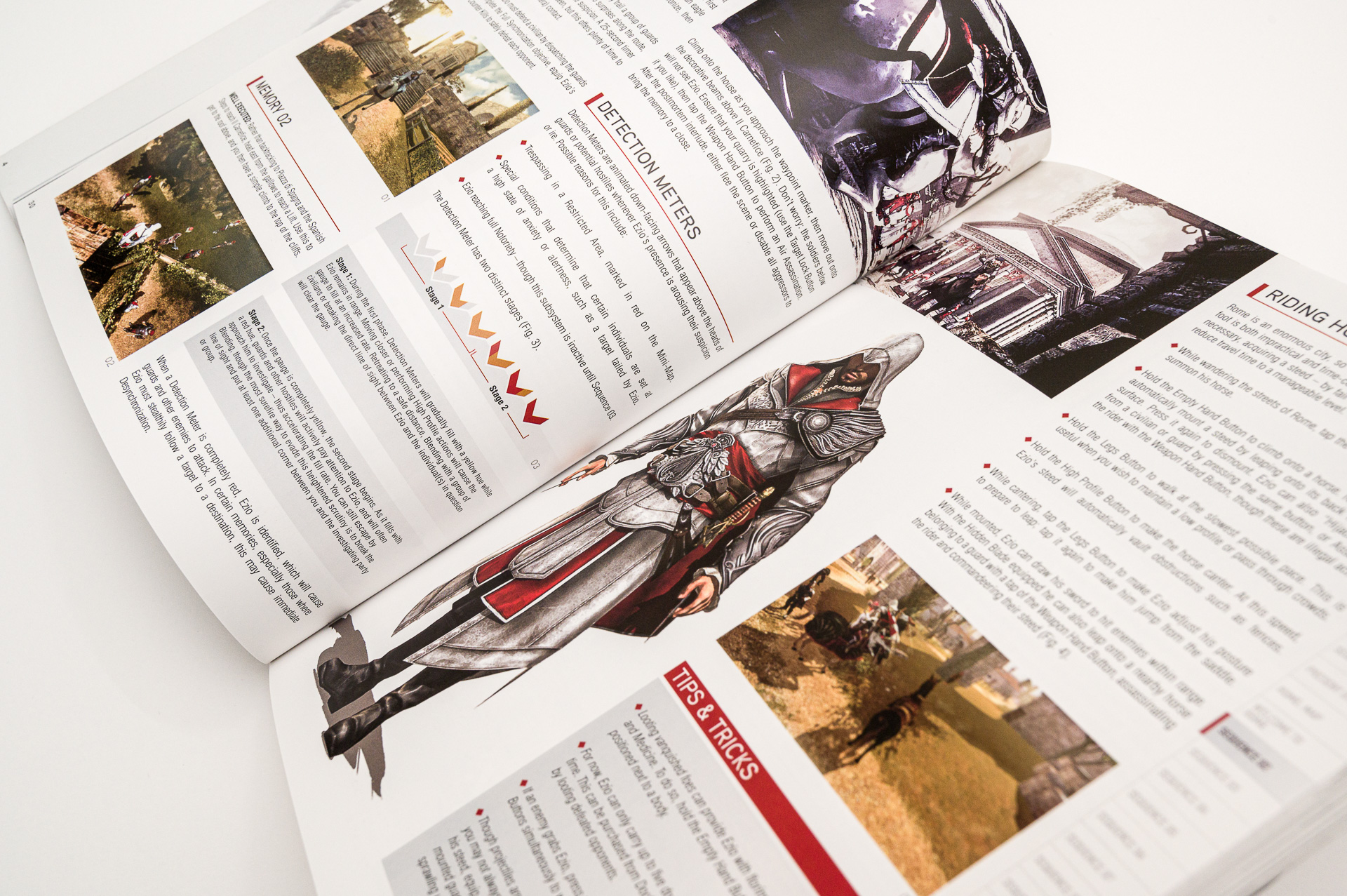 Editions
| | |
| --- | --- |
| Image | |
| Edition | Standard Edition |
| Release date | 19/11/2010 |
| Pages | 228 |
| Binding | Softcover |
| Bonus | A detailed 20-page review of events across the entire Assassin's Creed series to date. An exclusive 16-page section features stunning Behind the Scenes material, including previously unpublished revelations from the development team. |
| ISBN | 978-1-906064-74-7 |
| EAN | 9781906064747 |
| Price | £12.99 / EUR 15.99 |
| Availability | Sold out |
Preview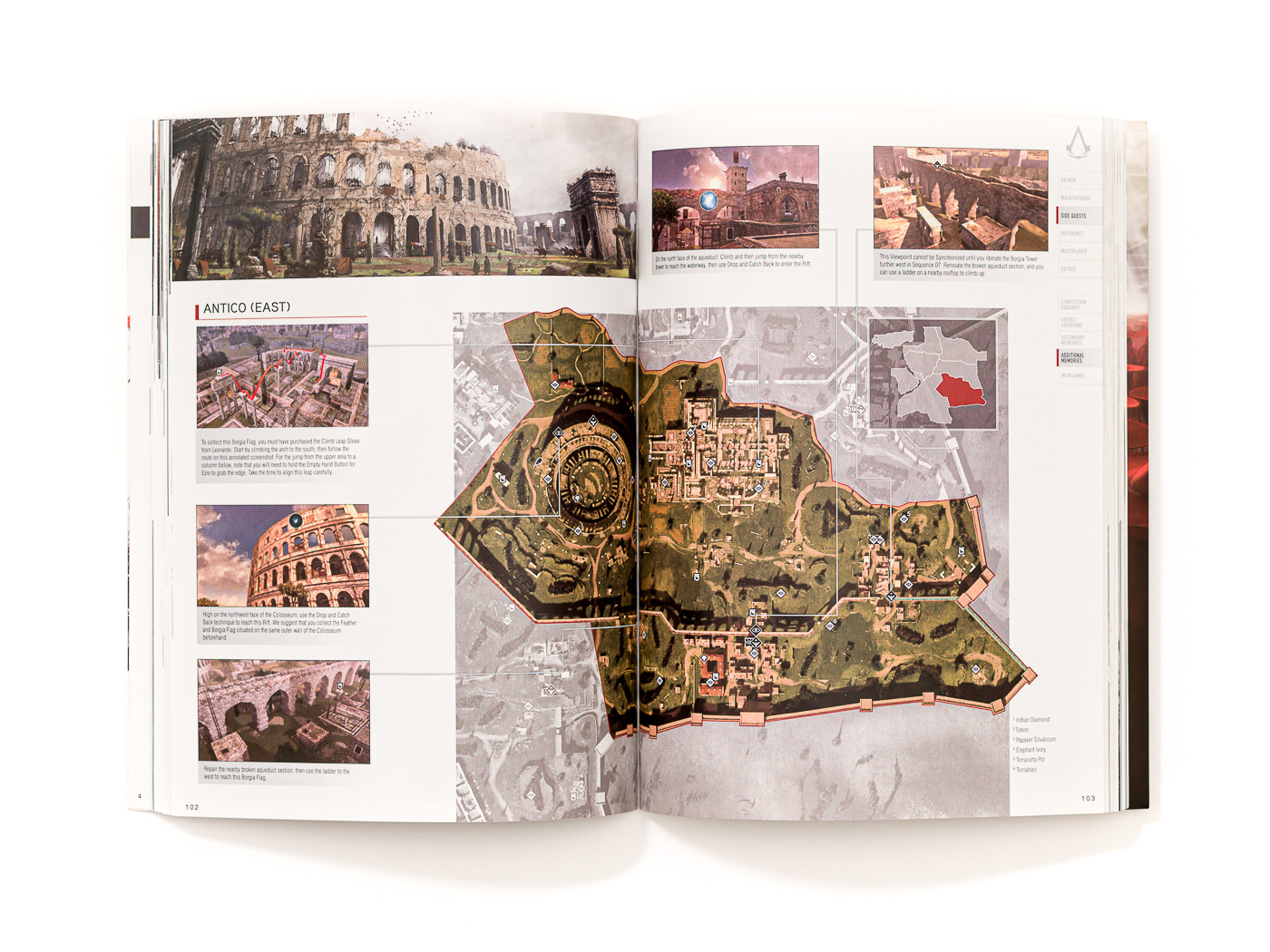 The entire sample page pack
All the sample pages from the Assassin's Creed Brotherhood Complete Official Guide available in one easy download.
Reviews
"When they say COMPLETE, they mean it"

"Great as usual! The care that Ubisoft and Piggyback take to insure that their game guides are simply a work of art is taken to the next level with this Collector's edition. I own their book for AC1 and all of the information that you would like to have is included in that book and in this one as well. When they say COMPLETE, they mean it. The pictures and descriptions are incredible. The hardcover is simply stunning and it shows that they take great care in making their books as wonderful as possible. […] I'm glad I have the guide. Not only is it a great reference when I get stuck, it's simply beautiful and fun to just leaf through, learning more about the culture of the game. Highly recommended."

Amazon Customer Review 16/12/2010
"Piggyback guides have no equal"

"If you played AC2, then you know how many extra missions and metagames were available. If you bought the Piggyback guide, you knew how well arranged and informative it was. Same thing here for AC: Brotherhood and in some ways the game is even bigger, and this guide all the more helpful. […] I probably sound like I'm rambling here, but the bottom line is the guide does such a comprehensive job of presenting EVERYTHING that's in the game so well, it's almost overwhelming. Everything is well organized and easy to find, and will make your journey towards 100% completion (and getting all the achievements/trophies — complete with descriptions on how to attain) a lot easier. Piggyback Guides have no equal."

Amazon Customer Review 18/11/2010
"A great buy!"

"[…] This book is of a great quality, the assassin logo on the cover is embossed which is a nice touch the paper inside of a higher than average quality; very thick. The guide itself is really good, it breaks everything down into sections so all the item hunting is one section, all the side quests organized into one section and the story guide into a section. It's a Piggyback guide; so if you have any familiarity with them you'll have a better idea of what this offers. I think their guide organization is really good."

Amazon Customer Review 13/12/2010